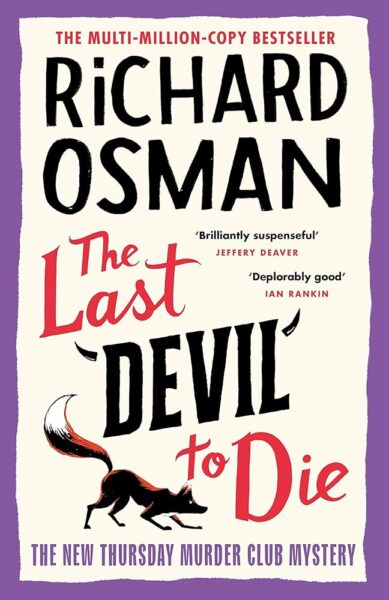 Richard Osman
The Last Devil to Die
For the fourth instalment of The Thursday Murder Club, the residents of Coopers Chase find themselves meddling with an international drug smuggling cartel. This book spans an interconnected web of familiar characters and delivers some of the most emotionally punchy moments to date.
There are some unavoidable hints and references in this article. We always avoid spoilers, but given fans of the book all love solving mysteries, the themes discussed are likely to cause your sleuthing minds to work things out. If you're a fan and are likely to figure things out, just go read the book.
The book starts with a murder – and it's someone familiar. The big question is: How did they get mixed up with a missing drug shipment? Before long, it turns out there's a lot of people after the package and it's putting everyone in danger.
Donna and Chris get sidelined on the official investigation when a national crime unit takes over the case, and Elizabeth is mysteriously occupied. That means Joyce has moments where she has to step up and take charge, which she relishes.
Osman has always artfully tugged on the mood strings. When a book can make you laugh out loud in public, you know you're onto a good thing, but this book will also make you cry in public. The swings between the touching sadness and the lighter moments are executed to perfection.
If you've read all twenty books in the Cadfael Chronicles, you'll know that long-term threads provide important connections between individual stories. That's a big feature of The Thursday Murder Club series, too.
As an aside, Steven Spielberg's production company, Amblin, has bought the global film rights. Ol Parker (The Best Exotic Marigold Hotel, Mamma Mia) is slated to write the screenplay, which seems like a good match for the tone and style.
Publisher's Synopsis
Shocking news reaches the Thursday Murder Club.
An old friend in the antiques business has been killed, and a dangerous package he was protecting has gone missing.
As the gang springs into action they encounter art forgers, online fraudsters and drug dealers, as well as heartache close to home.
With the body count rising, the package still missing and trouble firmly on their tail, has their luck finally run out? And who will be the last devil to die? (Synopsis)
Written by Fenton on
Steve Fenton writes in our music, words, and culture categories. He was Editor in Chief for The Mag and covered live music for DV8 Magazine and Spill Magazine. He was often found in venues throughout the UK alongside ace-photographer, Mark Holloway. Steve is also a
technical writer and programmer
and writes
gothic fiction
. Steve studied Psychology at OSC, and Anarchy in the UK: A History of Punk from 1976-1978 at the University of Reading.
Discover More Words