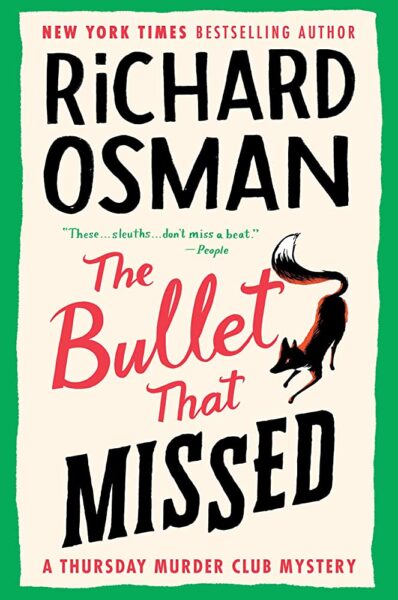 Richard Osman
The Bullet That Missed
The thing about Richard Osman is that in three quick bouts, he's become the undisputed champion of cosy mysteries. Technically, it was in the bag after two books, but this new release cements it. It's enough to make an author abandon the territory, and I'm already tapping out my text to Bogdan asking for a lift across the county line into horror fiction.
The primary storyline concerns a cold case that the Thursday Murder Club are looking into; a journalist who disappeared while investigating a big VAT fraud case. This is twisted around a secondary thread from Elizabeth's past to create a satisfying plot for the different characters to shine.
… and it really is the characters that provide the brilliance once again. Each individual and their unique personality provides a regular cadence of moist cheeks, often from laughter and sometimes from a more sentimental cause – all with an artful treatment that means the light moments are funny because you recognise them in your own wrestle with growing up and getting older.
Nothing like lying in your grave with a bullet hole through your head to make you think about life.
It's not simply the regular lineup that gets carved in wonderful three-dimensional detail. The single-scene appearances are just as wonderfully finished.
Some elements remain constant, solid bedrock beneath our feet to keep us oriented. Joyce's monologues are one such anchor. Book diary entries are often awkward and disruptive, but you'll look forward to her unique perspective as events unfold. Equally, there's a lot of movement, too, as the longer-term stories develop for Donna, Steven, Bogdan, and even Alan see their stories developing.
In terms of plot, for crime lovers, there are various conundrums and obstacles to enjoy, but more casual readers can simply wait for the Thursday Murder Club to solve the puzzle. There are also some really great references in this story that you might enjoy if you've seen one of Osman's quiz shows, which are often shown at the same time as the news.
If you're new to this series, go back to the beginning and read 'The Thursday Murder Club' and 'The Man Who Died Twice'. If you've already read those two books, I think you'll already have a copy of 'The Bullet That Missed' on order.
Publisher's Synopsis
It is an ordinary Thursday and things should finally be returning to normal.
Except trouble is never far away where the Thursday Murder Club are concerned. A decade-old cold case leads them to a local news legend and a murder with no body and no answers.
Then a new foe pays Elizabeth a visit. Her mission? Kill. . . or be killed.
As the cold case turns white hot, Elizabeth wrestles with her conscience (and a gun), while Joyce, Ron and Ibrahim chase down clues with help from old friends and new. But can the gang solve the mystery and save Elizabeth before the murderer strikes again? (Synopsis)
Written by Fenton on
Steve Fenton writes in our music, words, and culture categories. He was Editor in Chief for The Mag and covered live music for DV8 Magazine and Spill Magazine. He was often found in venues throughout the UK alongside ace-photographer, Mark Holloway. Steve is also a
technical writer and programmer
and writes
gothic fiction
. Steve studied Psychology at OSC, and Anarchy in the UK: A History of Punk from 1976-1978 at the University of Reading.
Discover More Words