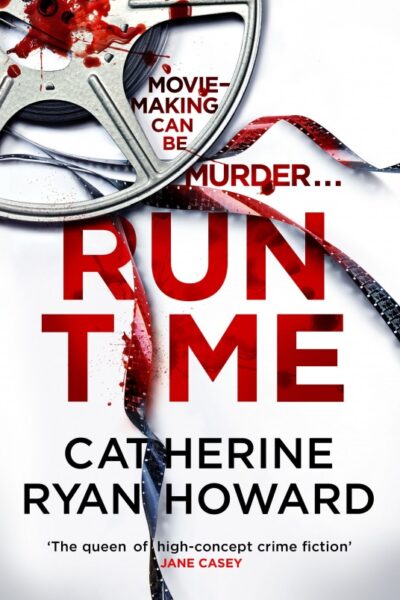 Catherine Ryan Howard
Run Time
Layered like the shattered striations of the lithosphere, strap yourselves in for a multi-meta celebration of crime from Catherine Ryan Howard. 'Run Time' follows the story of Adele Rafferty, a soap star who is struggling to reignite her career and the movie that seems to be her last-ditch effort to stay in the business.
When she arrives on location, a lodge set in dense woodland in the middle of the Irish countryside, there are signs that things aren't quite right. As the signs of trouble become clearer, it seems like Adele might have left it too late to get away.
The scheme of this book is that there's a novel, from which a script has been written, and the events start happening in real life on the movie set. This trick is maximised by Catherine Ryan Howard's witty edge, which is definitely what kept me reading this story. The book is by no means comedy, but the humour is used excellently to disarm the potential complexity of the novel/script/reality plot, where reality actually refers to the novel proper. With the fourth wall being smashed on multiple levels, that wit keeps you excited about what's coming next.
Characters and Background
There are several interesting characters to hand in this story. Adele Rafferty is a truism – the childhood soap star who left to do bigger things and then struggled. It's not a stereotype as much as it's a regular real story. There is the added complication for Rafferty caused by getting fired from a movie under strange circumstances and from being a feminist stuck on set with a crew entirely staffed by men. Most of the story is from her perspective.
We then have a rich tapestry of characters in orbit, friends, former colleagues, agents, and the film crew. The crew are varied examples of masculinity, ranging from toxic to creepy.
We also have the additional layer of characters from the inner-novel. These characters are less defined because we don't read that whole core-novel but get a taste through excepts of the screenplay. These are supplied in a timely fashion for us to get the gist of the events that unfold in and around the lodge.
Summary
In the process of writing the review, it becomes pretty obvious how difficult it is to explain this metaplot, which makes it all the more brilliant that Catherine Ryan Howard made such an entertaining and captivating job of it.
This is a really fun crime scenario, told with skill, and with that winning humour baked in to elevate it. I love book.
Publisher's Synopsis
The project: Final Draft, a psychological horror, being filmed at a house deep in a forest, miles from anywhere in the wintry wilds of West Cork.
The lead: Former soap star Adele Rafferty has stepped in to replace the original actress at the very last minute. She can't help but hope that this opportunity will be her big break – and she knows she was lucky to get it, after what happened the last time she was on a set.
The problem: Something isn't quite right about Final Draft. When the strange goings-on in the script start to happen on set too, Adele begins to fear that the real horror lies off the page…
Run Time is available on 18th August.
Catherine Ryan Howard Articles
Written by Fenton on
Steve Fenton writes in our music, words, and culture categories. He was Editor in Chief for The Mag and covered live music for DV8 Magazine and Spill Magazine. He was often found in venues throughout the UK alongside ace-photographer, Mark Holloway. Steve is also a
technical writer and programmer
and writes
gothic fiction
. Steve studied Psychology at OSC, and Anarchy in the UK: A History of Punk from 1976-1978 at the University of Reading.
Discover More Words