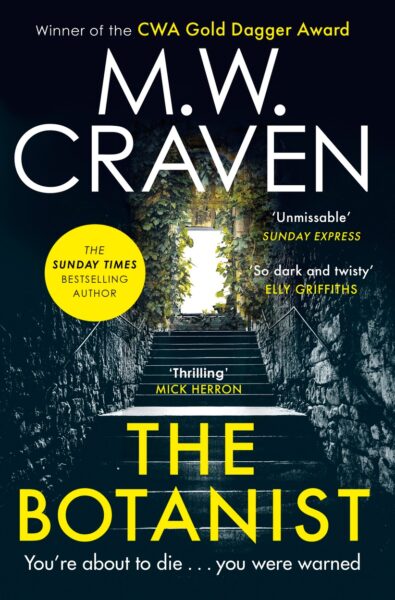 M. W. Craven
The Botanist
For those unfamiliar with Washington Poe and Tilly Bradshaw, they are the detective duo of the modern era. Like Holmes and Watson, or Poirot and Hastings, it's the personalities of these two that really make this series of books rather special. However, no agony has been spared for the other details required for the very best of crime novels.
The Botanist features multiple locked-room mysteries, impossible crimes that appear to be unsolvable. (Fans of Golden Age Locked Room Mysteries will love this.) Craven keeps the suspense going beautifully, with plenty of revelations along the way to help armchair sleuths form their own theories. The story zips up and down the country, with some intriguing locations adding to the plot twists.
As with past novels, the emotional buttons all get pushed. There are plenty of laugh-out-loud moments in this book, along with unexpectedly poignant junctures. You'll laugh, you'll cry… goes the cliche, but actually, you will. In fact, the careful rendering of the rawness of Poe, the innocence of Tilly, and the surprising effect they have on each other is part of the dark art in this writing.
Asides from our favourite duo, there are plenty of other deeply engraved characters. Some are familiar members of the extended team and others, such as the washed-up journalist Henning Stahl, or Detective Chief Inspector Tai-young Lee. There are also neat civilian renderings for Harrison Cummings and Karen Royal-Cross (named after super-fan Karen Royle-Cross who, we are assured, is entirely unlike the character in the book).
The Botanist continues the trend of the Washington Poe series getting better every time.
Publisher's Synopsis
Detective Sergeant Washington Poe can count on one hand the number of friends he has. And he'd still have his thumb left. There's the insanely brilliant, guilelessly innocent civilian analyst, Tilly Bradshaw of course. He's known his beleaguered boss, Detective Inspector Stephanie Flynn for years as he has his nearest neighbour, full-time shepherd/part-time dog sitter, Victoria.
And then there's Estelle Doyle. It's true the caustic pathologist has never walked down the sunny side of the street but this time has she gone too far? Shot twice in the head, her father's murder appears to be an open and shut case. Estelle has firearms discharge residue on her hands, and, in a house surrounded by fresh snow, hers are the only footprints going in. Since her arrest she's only said three words: 'Tell Washington Poe.'
Meanwhile, a poisoner the press have dubbed the Botanist is sending high profile celebrities poems and pressed flowers. The killer seems to be able to walk through walls and, despite the advance notice he gives his victims, and regardless of the security measures the police take, he seems to be able to kill with impunity.
For a man who hates locked room mysteries, this is going to be the longest week of Washington Poe's life … (Synopsis)
M. W. Craven Articles
Written by Fenton on
Steve Fenton writes in our music, words, and culture categories. He was Editor in Chief for The Mag and covered live music for DV8 Magazine and Spill Magazine. He was often found in venues throughout the UK alongside ace-photographer, Mark Holloway. Steve is also a
technical writer and programmer
and writes
gothic fiction
. Steve studied Psychology at OSC, and Anarchy in the UK: A History of Punk from 1976-1978 at the University of Reading.
Discover More Words