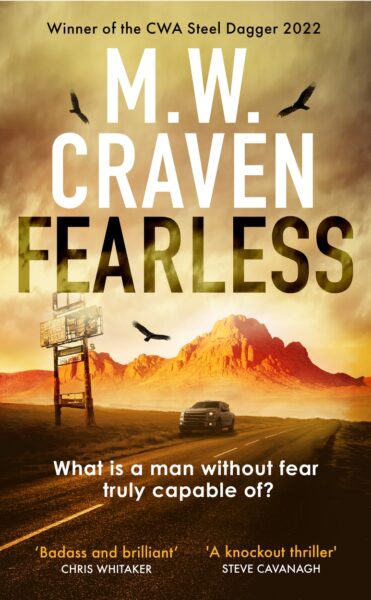 M. W. Craven
Fearless
Mike Craven is no stranger to these pages, his Washington Poe / Tilly Bradshaw detective novels are superb. There are also two older books following DI Avison Fluke, which I read for background. Somewhere amongst all of these was Ben Koenig.
First drafted in 2015, 'Fearless' is the story of an ex-US Marshal whose head injury broke his ability to feel fear. Koenig is not someone you'd trust to decide if something was a good idea and this is a great basis for a book that is an exceptionally explosive action thriller.
The book quickly gives you a feeling of substance. There's a "why did Koenig have to drop off the grid" back story, an urgent kidnapping, and some less-than-trustworthy characters who feel like they could turn on Koenig at any moment.
The book is stylish, with a depth of research that is uncommon. Small details are rendered in high definition, with some incredible slow-motion moments that lets readers inspect the freeze-frame from the fast-paced action. It's like being beamed into a 3D scene and being allowed to move around it and see it from all angles. This brings something special to the frantic moments of action and it allows the more brutal moments to punch you solidly in the amygdala.
The lighter moments land just as hard. Little pockets of tension-releasing brilliance that will make you laugh in ways that get you wondering if you ought to be laughing.
Because the book is written in first person perspective, so as the situation unfolds you get to follow Koenig's thought process as he assesses what's going on and plans his next move. You'll incidentally pick up tips for going into hiding, selecting ammunition, breaching into buildings, and how to pack your kit for stealth in this book. Certainly, if you owe Mike any money, you'll be settling the bill pretty quickly after reading this novel. Don't wait for him to knock!
The book is packed with vivid scenes that flood your head like you've watched a blockbuster movie. Expect this to be the start of something big.
Signed editions are available to pre-order from Bookends in Carlisle, Mike Craven's local bookshop. The book is out on 29th June 2023.
---
Publisher's Synopsis
Six years ago it was Koenig who headed up the US Marshal's elite Special Ops group. They were the elite unit who hunted the bad guys – the really bad guys. They did this so no one else had to.
Until the day Koenig disappeared. He told no one why and he left no forwarding address. For six years he became a grey man. Invisible. He drifted from town to town, state to state. He was untraceable. It was as if he had never been.
But now Koenig's face is on every television screen in the country. Someone from his past is trying to find him and they don't care how they do it. In the burning heat of the Chihuahuan Desert lies a town called Gauntlet, and there are people in there who have a secret they'll do anything to protect. They've killed before and they will kill again.
Only this time they've made a mistake. They've dismissed Koenig as just another drifter – but they're wrong. Because Koenig has a condition, a unique disorder that makes it impossible for him to experience fear. And now they're about to find out what a truly fearless man is capable of. Because Koenig's coming for them. And hell's coming with him… (Synopsis)
M. W. Craven Articles
Written by Fenton on
Steve Fenton writes in our music, words, and culture categories. He was Editor in Chief for The Mag and covered live music for DV8 Magazine and Spill Magazine. He was often found in venues throughout the UK alongside ace-photographer, Mark Holloway. Steve is also a
technical writer and programmer
and writes
gothic fiction
. Steve studied Psychology at OSC, and Anarchy in the UK: A History of Punk from 1976-1978 at the University of Reading.
Discover More Words