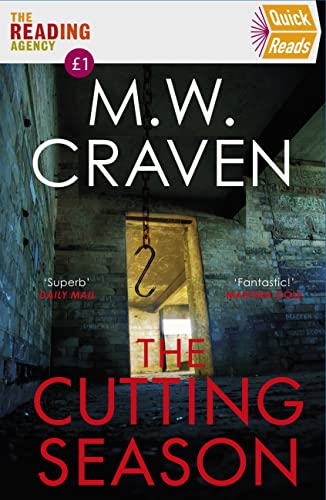 M. W. Craven
The Cutting Season
Part of the quick reads programme from The Reading Agency, 'The Cutting Season' is already rubber-stamped as great storytelling and adult-focussed content, written in an accessible and easy-to-read style. For fans of Craven's Poe & Tilly series, you'll know the short stories are all good. We're getting promisingly close to a future that has a BBC Drama series of these miniature adventures and a string of films for the novels starring Gino Wilson.
The beauty of a short read is the traditional plot ladder and story arc can be tossed aside, and this allows for a more dramatic structure that's similar to watching an episode of a great television show. The pace here is suitably rapid, starting right in the middle of the action and then rapidly revealing how Poe ended up swinging from a meat hook.
There are several good payback moments, details omitted for obvious reasons, but it's a satisfying steady series of turns of events that brings the end of the book quickly in sight.
You might hammer this in one epic session, or split it into two or three; however you decide to cut it up, this is a great rapid crime story.
Publisher's Synopsis
Dangling from a hook in a meat packing plant isn't how Detective Sergeant Washington Poe wants to spend his weekend. He's been punched and kicked and threatened, and when a contract killer arrives it seems things are about to go from bad to worse. He goes by the name of the Pale Man and he and his straight-edged razor have been feared all over London for twenty years.
But Poe knows two things the Pale Man doesn't. Although it might seem like a hopeless situation, Poe has planned to be here all along. More importantly, a nerdy, computer whizz-kid called Tilly Bradshaw is watching his back. And now things are about to get interesting… (Synopsis)
M. W. Craven Articles
Written by Fenton on
Steve Fenton writes in our music, words, and culture categories. He was Editor in Chief for The Mag and covered live music for DV8 Magazine and Spill Magazine. He was often found in venues throughout the UK alongside ace-photographer, Mark Holloway. Steve is also a
technical writer and programmer
and writes
gothic fiction
. Steve studied Psychology at OSC, and Anarchy in the UK: A History of Punk from 1976-1978 at the University of Reading.
Discover More Words