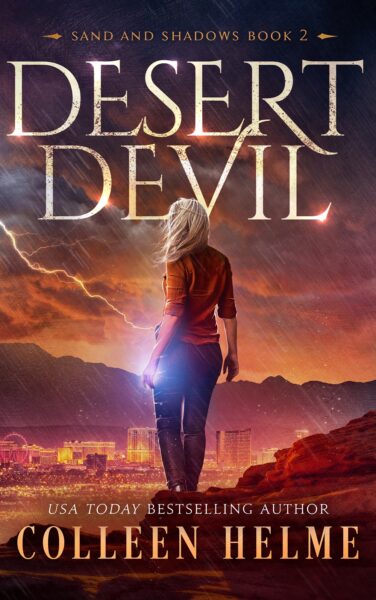 Colleen Helme
Desert Devil
The Sand and Shadows series spins out of the Shelby Nichols series of books and remains close-knit to the original series. If you haven't yet discovered Shelby, I'm duty-bound to tell you to read Carrots, the first book in the Shelby Nichols universe. The fast-paced action and fun characters make the books fly past in no time and there are plenty of scrapes to be had along the way.
If you aren't up to date on the previous books, look away from your screens as there might be some spoilers in here. We try to avoid giving away major plot points, but you might infer a thing or two along the way.
For this series, the focus is on Ella St. John, a trauma nurse with a secret gift that lets her heal people she touches. In the first book, Angel Falls, we got an introduction to Ella (and she got an introduction to her future husband, Creed). This installment begins almost immediately following the previous book – a common timeline feature of Colleen's work. After some scene-setting, the action develops at the usual high speed and with a good few changes of direction.
After showing signs of developing into a courtroom drama, it isn't long before the action has moved dramatically in new directions. We have multiple bad guys competing for our attention, but there is no doubt about the pecking order as Gage Rathmore sheds his sinister light on proceedings.
Before you know what's going on, there are bodies hitting the floor, and a sudden unexpected surprise to process.
The craft in this book is that it becomes quickly apparent that none of the characters is safe. The malevolent forces working against our protagonists are all-powerful and you get the feeling that some of the heroes aren't going to be around at the end of the book.
Unlike the chemistry and tension between Shelby and Ramos – an attraction that can never happen, Ella and the rugged Creed get to indulge their desires. They do so a few times, tastefully done and with little descriptive detail. If you like a motorbike riding, muscular, stubbly, strong man, Ramos and Creed should have you covered!
Colleen has done a great job of creating this world of mob bosses, villainous businessmen, strong female leads, and rugged side-kicks. These books are always breakneck and often drop surprises. We're excited for the next one already!
Publisher's Synopsis
A fragile beginning, a past that won't let go, and a deadly enemy. Hoping for a bright future with the man she loves, Ella St. John begins her new life, only to find that a deadly enemy from her past is intent on getting his way.
Drawn into a fight that isn't hers, Ella must do whatever it takes to protect those she loves, even if it means going against everything she believes in. (Synopsis)
Colleen Helme Articles
Written by Fenton on
Steve Fenton writes in our music, words, and culture categories. He was Editor in Chief for The Mag and covered live music for DV8 Magazine and Spill Magazine. He was often found in venues throughout the UK alongside ace-photographer, Mark Holloway. Steve is also a
technical writer and programmer
and writes
gothic fiction
. Steve studied Psychology at OSC, and Anarchy in the UK: A History of Punk from 1976-1978 at the University of Reading.
Discover More Words