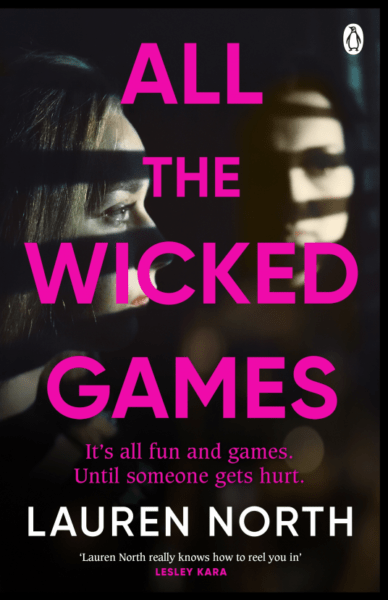 Lauren North
All the Wicked Games
After playing games with strangers on an online video chat platform, things go terribly wrong for housemates Rachel and Chloe. The book follows the five-year echo of these events, interspersed with flashbacks. Rachel has gone missing, but the Police aren't taking it seriously, so Chloe heads back to their old haunts to try and find her.
The story is anchored to Chloe but also shifts to other perspectives to expand the narrative beyond the protagonist's view. Like all Lauren North novels, there's a great deal of psychological tension. All the characters have things they'd rather hide, including Chloe. As the situation escalates the truth must come out for many of them.
North does an excellent job of building the tension as the puzzle pieces drop into place. The story grows in a natural fashion, with smooth gear changes that pull you along as things develop. There are enough signposts to hint at what's coming next, if you're a sleuth you might work some of it out; but this isn't a detective novel so much as a thriller.
There are some proper dark moments that could have popped up in a horror novel, artfully incorporated and providing decent reader-empathy reactions. The amount of action, in retrospect, is rather impressive yet it never feels too rushed.
As with One Step Behind and Safe At Home, the characters are charismatic despite their cracks and chips. Even when Chloe makes bad calls, you can understand why she's doing it and you're cheering her on.
All the Wicked Games is a solid mixture, mostly a thriller but with co-starring roles from horror and detective fiction. The writing is high-quality as is the rendering of all the characters, even those who provide only fleeting roles. If you like things tense and edge-of-panic, this is a top choice.
Publisher's Synopsis
Are you ready to play? Best friends Cleo and Rachel spend their evenings pretending to be people they're not, inventing elaborate stories to escape the monotony of their real lives. It's all harmless fun – until they play the game on the wrong person…
It's your move now. Five years later, Cleo is still struggling to come to terms with the night that destroyed her friendship with Rachel and almost cost them their lives. And then she receives a text: Rachel is missing. Have you seen her?
There's only one person to blame. Wracked with guilt for failing Rachel the last time they were in danger, Cleo races to find her friend. But could the past be repeating itself? Only this time, they're caught up in a far darker game.
The rules don't matter when the goal is revenge. (Synopsis)
Written by Fenton on
Steve Fenton writes in our music, words, and culture categories. He was Editor in Chief for The Mag and covered live music for DV8 Magazine and Spill Magazine. He was often found in venues throughout the UK alongside ace-photographer, Mark Holloway. Steve is also a
technical writer and programmer
and writes
gothic fiction
. Steve studied Psychology at OSC, and Anarchy in the UK: A History of Punk from 1976-1978 at the University of Reading.
Discover More Words