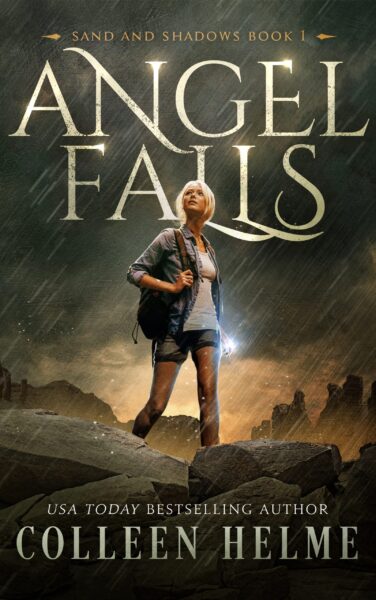 Colleen Helme
Angel Falls
If you've been following Shelby Nichols since 'Carrots', you are likely to be familiar with Colleen Helme's writing style. Each of her previous books acts like a sponge that sucks you in with ease, depositing you at the end of the book before you know what's hit you. As I have mentioned many times before on other platforms, when I praised each Shelby book in turn, if you've missed the story so far, go back and read 'Carrots' and you'll be immediately hooked.
Angel Falls spins out of the Shelby Nichols series, with Ella St. John rocketing from her enigmatic debut as a New York emergency worker into the hot spotlight for the lead in this sound-barrier challenging adventure. It feels like we are just a few sentences in and already Ella is in mortal peril. From the first raindrop that splashes into the canyon, the action pours down in an absolute torrent.
Scenes are painted vividly and the characters are, as always, well rendered. (Especially the roguish men, it must be said!) This is an expert backdrop for subtle supernatural twists to emerge; mini superpowers that don't create an invincible steel hero, but which bring a spark of unearthly glow to an otherwise rational story. Colleen did this perfectly for Shelby and she has hit the bullseye again as Ella discovers the extent and limitations of her own unique gift.
Angel Falls is an adventure. It's action-packed and peppered with a will-they won't-they romance. There are several big surprise moments and a drop-dead reveal waiting to be sprung. It has to be said, I love it.
Publisher's Synopsis
As a trauma nurse in a New York City hospital, Ella St. John had no idea that refusing to help a known killer would have such dire consequences. Being sent to the middle of nowhere is bad enough, but when she crosses paths with a handsome stranger, everything changes. She can't deny the attraction blossoming between them, but that is nothing compared to the trouble he brings to her door. Helping him could be the biggest mistake of her life… if she manages to live long enough to regret it. (Synopsis)
Colleen Helme Articles
Written by Fenton on
Steve Fenton writes in our music, words, and culture categories. He was Editor in Chief for The Mag and covered live music for DV8 Magazine and Spill Magazine. He was often found in venues throughout the UK alongside ace-photographer, Mark Holloway. Steve is also a
technical writer and programmer
and writes
gothic fiction
. Steve studied Psychology at OSC, and Anarchy in the UK: A History of Punk from 1976-1978 at the University of Reading.
Discover More Words