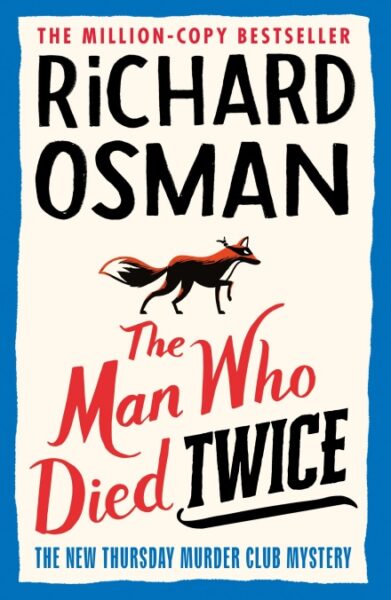 Richard Osman
The Man Who Died Twice
In this second instalment of The Thursday Murder Club Mysteries, the edges are extended in all directions. There is more danger, there are more suspects, and there is more insight into the internal workings of each character. What we have on offer is a big blend of secret service antics, gangs and mobs, robbery, and a scattering of murder. It's not long before The Thursday Murder Club are right in the middle of it all, along with DCI Chris Hudson and PC Donna De Freitas. This time they are also joined by members of MI5 and the Special Boat Service, which gives some indication of just how international this book gets.
The people are the stars once again, or more accurately the lines that connect them. The secretive genius of Elizabeth as it bounces off the open-book of Joyce. The quiet reserve of Ibrahim standing in relief against Ron's blunt no-nonsense loudness.
Things are incredibly touching at times, too. Amongst the antics and humour there are poignant moments such as the description of the sadness experienced by the residents of the Coopers Chase retirement village; "I imagine if you could hear all the morning tears in this place it would sound like birdsong."
In terms of a story, Osman either has an amazing imagination, or has a spectacular secret past. Either way, the mystery is presented with enough information for you to work things out for yourself, but is also tricky enough that you probably won't piece it together until the right moment. In this outing, there are some classic detective clues to follow, such as cryptic messages and code-breaking. The plot flows out into two main themes that eventually flood together towards the end. There's also plenty of normal life happening along the way, which keeps the story grounded. The everyday sections of this book make the more fantastic elements more believable.
It isn't possible to cover all the great moments in this book without giving too much away, but if you are a slightly soft-bodied middle-aged male, DCI Chris Hudson is going to feel a lot like a mirror. Equally, if you are an ex-spy in your 70s who could outwit a master criminal, you will probably see a lot in Elizabeth that's familiar!
In short, The Man Who Died Twice is a great detective novel that has genuine laugh-out-loud moments.
Publisher's Synopsis
It's the following Thursday. Elizabeth has received a letter from an old colleague, a man with whom she has a long history. He's made a big mistake, and he needs her help. His story involves stolen diamonds, a violent mobster, and a very real threat to his life.
As bodies start piling up, Elizabeth enlists Joyce, Ibrahim, and Ron in the hunt for a ruthless murderer. And if they find the diamonds too? Well, wouldn't that be a bonus?
But this time they are up against an enemy who wouldn't bat an eyelid at knocking off four septuagenarians. Can The Thursday Murder Club find the killer (and the diamonds) before the killer finds them? (Synopsis)
Written by Fenton on
Steve Fenton writes in our music, words, and culture categories. He was Editor in Chief for The Mag and covered live music for DV8 Magazine and Spill Magazine. He was often found in venues throughout the UK alongside ace-photographer, Mark Holloway. Steve is also a
technical writer and programmer
and writes
gothic fiction
. Steve studied Psychology at OSC, and Anarchy in the UK: A History of Punk from 1976-1978 at the University of Reading.
Discover More Words