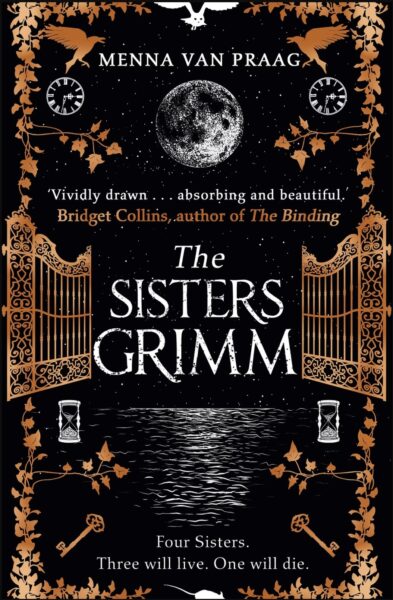 Menna van Praag
The Sisters Grimm
Menna van Praag has crafted a wonderful supernatural story that is firmly rooted in the real world. The story follows four sisters who live very ordinary lives with relatable everyday struggles. With quite a focus on the normal part of their lives, the book smoulders along with just dreamy references and flashbacks to the mystical Everwhere. The general idea is that the sisters were birthed to be a part of a dark army that proves itself by killing fallen stars who manifest as men whose sole purpose is to find and kill these sisters. Rather than all-out ethereal battles, it's all about the hunt – so things creep along with restrained pace for the most part.
The scene-setting is done carefully, and this will cause issues for readers who need more motion. The set up is important to the events that unfold, but it is fair to say that all the big events are left to the final third. That's not to say the journey isn't good as the writing is full of texture and the characters are superbly crafted. While we're touching on difficult parts, the book is mostly written from Goldie's perspective, even where it moves between the different parts of the story. There are, though, some exceptions where you'll find Goldie referred to from a third-person narrative. This confused me a couple of times, perhaps due to my inferior brain function.
Nevertheless, the attention to detail in the lives of the sisters and the people in their orbit is second-to-none and this is ultimately what kept me engaged. As events start to pick up, the handling of the Earth-bound events is emotionally excellent and the explosive battle that the book has been building towards is grand enough to live up to all the anticipation (though I would have preferred the removal of the spoiler-strapline "three will live, one will die" that was plastered on the front-cover).
The fairy-tale references in the book are also smartly done. These could have been more numerous as they were clever and twisty and provided the biggest emotional payoff in the book.
While I would have enjoyed some earlier forward motion, I certainly wouldn't have been happy to miss out on the character detail. With patient reading, there is certainly a lot to enjoy in the book.
Publisher's Synopsis
All souls are special. Son or daughter, Grimm or not, Life touches her spirit to every one of her creations. But the conception of a daughter is a particularly mystical event, requiring certain alchemical influences. For, to conceive a being who can bear and birth life herself needs a little something… extra.
Every daughter is born of an element, infused with its own particular powers. Some are born of earth: fertile as soil, strong as stone, steady as the ancient oak. Others of fire: explosive as gunpowder, seductive as light, fierce as an unbound flame. Others of water: calm as a lake, relentless as a wave, unfathomable as an ocean. The Sisters Grimm are daughters of air, born of dreams and prayer, faith and imagination, bright-white wishing, and black-edged desire. (Synopsis)
Written by Fenton on
Steve Fenton writes in our music, words, and culture categories. He was Editor in Chief for The Mag and covered live music for DV8 Magazine and Spill Magazine. He was often found in venues throughout the UK alongside ace-photographer, Mark Holloway. Steve is also a
technical writer and programmer
and writes
gothic fiction
. Steve studied Psychology at OSC, and Anarchy in the UK: A History of Punk from 1976-1978 at the University of Reading.
Discover More Words