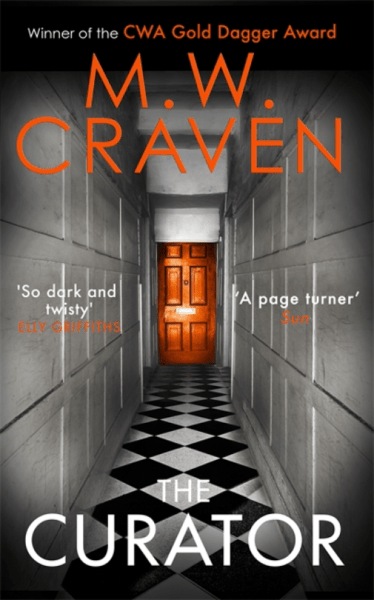 M. W. Craven
The Curator
With two highly applauded books in the Washington Poe and Tilly Bradshaw series already in the line-up, The Curator would have to be a superb story to avoid disappointing fans of M. W. Craven's newest detective duo. So, can the third installment maintain the standard set by The Puppet Show and Black Summer? Having donned a paper suit and plastic shoe covers, it's time to find out.
Let's start with the story. It's an absolute corker. The plot leaps about like an eel in a frying pan. Each and every time you find yourself on the verge of an "a-ha" moment, everything has changed. Craven has always been good at delivering convincing ways for pennies to drop and this book doesn't disappoint.
To explain why this book is pure excellence, a brief detour is needed. Those around me will often hear me profess that Christie is a smart crime writer because you could work it all out before the big reveal. The twist doesn't come from information that has been held back until the very end; it comes from that little trigger that makes everything you've read fall neatly into place. With The Curator, Craven almost mocks this concept by letting you fulfill layer after layer of eureka moments. When it all comes clattering into position, it is nothing shy of complete genius.
That's the story covered. It is quite possibly the best plot in the series. However, I'm smart enough to realise that there is other magic at work here. It has been mentioned before that this is one of the legendary crime duos, but Poe and Bradshaw supply the goods once more with their ace interactions. Yes, their relationship has necessarily developed from their initial meeting in The Puppet Show. They have now worked big cases together, got through some scrapes, and ascended to a new place. There is nothing to mourn in this progression, as everything is still electric and when the emotional buttons get pushed in this book, it's your attachment to these strange companions that causes the laugh-out-loud moments as well as the strange interludes where the text gets all fuzzy and your eyes itch.
If all this seems over-indulgent, please be reassured that after having read the classics in this genre I am fully qualified to certify this book excellent.
If you haven't read the first two, advance to Go, collect The Puppet Show, and make your way through them in order. There is no envy in my heart for the great and terrible task M. W. Craven now has ahead of him to create a fourth book in this series that can live up to the first three.
Publisher's Synopsis
Called in to investigate, the National Crime Agency's Washington Poe and Tilly Bradshaw are faced with a case that makes no sense. Why were some victims anaesthetized, while others died in appalling agony? Why is their only suspect denying what they can irrefutably prove but admitting to things they weren't even aware of? And why did the victims all take the same two weeks off work three years earlier?
And when a disgraced FBI agent gets in touch things take an even darker turn. Because she doesn't think Poe is dealing with a serial killer at all; she thinks he's dealing with someone far, far worse – a man who calls himself the Curator. (Synopsis)
M. W. Craven Articles
Written by Fenton on
Steve Fenton writes in our music, words, and culture categories. He was Editor in Chief for The Mag and covered live music for DV8 Magazine and Spill Magazine. He was often found in venues throughout the UK alongside ace-photographer, Mark Holloway. Steve is also a
technical writer and programmer
and writes
gothic fiction
. Steve studied Psychology at OSC, and Anarchy in the UK: A History of Punk from 1976-1978 at the University of Reading.
Discover More Words