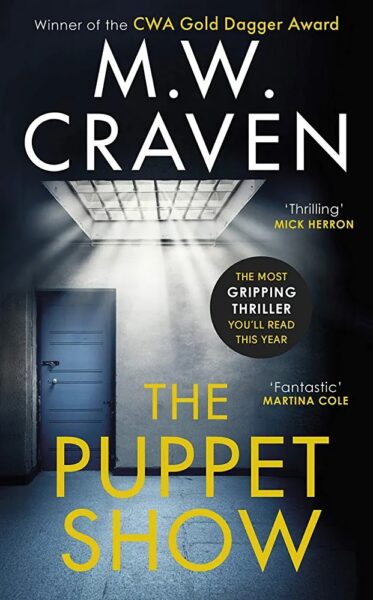 M. W. Craven
The Puppet Show
Having read a great pile of crime fiction titles over the years, from massive household names to obscure independent authors, I can tell you that I was delighted to stumble across this book.
This is a proper investigative romp across the Cumbrian landscape with a trail of clues, lots of reveals, and an explosive ending. It has political pressure, angry superior officers, and a classic detective who can't be kept on the straight and narrow; but what stands out is analyst Tilly Bradshaw.
The relationship between Bradshaw and the darkly heroic Washington Poe is nigh-on perfect. Holmes and Watson were brilliant. Poirot and Hastings were delightful. Washington and Bradshaw are right up there with the greats. They supply the brightest laughs as well as the sudden surprising ocular water leaks. Outside of the story, they also supply the itching impatient urge to get hold of the next book, which isn't ready yet.
Within the story, there are plenty of other strong characters and difficult connections; I shouldn't underplay these due to that ace pairing. There are people to admire (The Bishop of Carlisle), people to hate (Gamble), and people you just can't make your mind up about (Flynn). Cumbria itself also gets the loving brush-strokes of an author who has clearly spent some time amongst it's landscapes and landmarks.
The story has been intricately crafted; appearing effortless, which is the classic sign of painstaking hard work and sleepless nights. The bumps in the road force the plot to snake back and forth and the surprises are all well prepared. As I have said many times before, I love a mystery that supplies enough clues to allow you to work things out ahead of time – and I love them even more when I can only do it with hindsight!
Craven has created a masterpiece in The Puppet Show. It's right up with the best detective stories of all time and it will leave you waiting for the next book with foaming jaws.
Publisher's Synopsis
A serial killer is burning people alive in the Lake District's prehistoric stone circles. He leaves no clues and the police are helpless. When his name is found carved into the charred remains of the third victim, disgraced detective Washington Poe is brought back from suspension and into an investigation, he wants no part of.
Reluctantly partnered with the brilliant, but socially awkward, civilian analyst, Tilly Bradshaw, the mismatched pair uncover a trail that only he is meant to see. The elusive killer has a plan and for some reason Poe is part of it. As the body count rises, Poe discovers he has far more invested in the case than he could have possibly imagined. And in a shocking finale that will shatter everything he's ever believed about himself, Poe will learn that there are things far worse than being burned alive… (Synopsis)
M. W. Craven Articles
Written by Fenton on
Steve Fenton writes in our music, words, and culture categories. He was Editor in Chief for The Mag and covered live music for DV8 Magazine and Spill Magazine. He was often found in venues throughout the UK alongside ace-photographer, Mark Holloway. Steve is also a
technical writer and programmer
and writes
gothic fiction
. Steve studied Psychology at OSC, and Anarchy in the UK: A History of Punk from 1976-1978 at the University of Reading.
Discover More Words