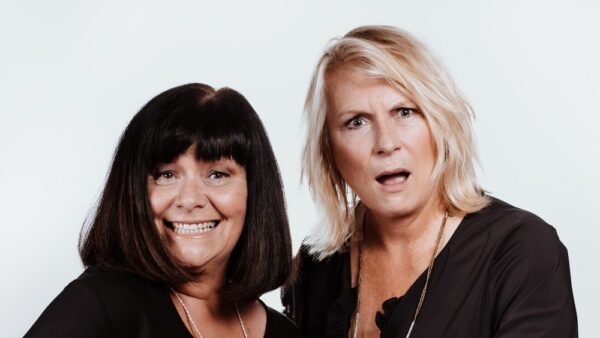 French & Saunders
Titting About
A genuine gem in the podcast cannon, Dawn French and Jennifer Saunders pick a loose theme for each episode and start a conversation. Then the magic happens. It's informal, wonderfully relaxed, and total comedy gold.
Using a friendly two-way interview, these two comedy legends elicit anecdotes, imaginings, and funny commentary on subjects such as hobbies, holidays, and school – with a special mention going to their off-piste subjects The Seven Deadly Sins and If We Were Alive Now. Despite occasionally using the strongest language available, the show is always high class – because we're just the quiet one at a table of three old friends. As Dawn says in one of the introductions…
The following programme contains strong language and adult content… it's not a porno!
To fully appreciate what's on offer, I listened to all of series one… then all of series two… then started series one again. According to the stopwatch, there's more than a laugh a minute and there are some intensely hilarious moments, such as off-the-cuff comments on pets and anecdotes about chewing gum that will make you choke on your coffee.
Despite claims that their career happened by chance, it's clear that some supernatural force was at play to ensure that French & Saunders happened; so it's really fate not chance. This podcast is an absolute delight.
Written by Fenton on
Steve Fenton writes in our music, words, and culture categories. He was Editor in Chief for The Mag and covered live music for DV8 Magazine and Spill Magazine. He was often found in venues throughout the UK alongside ace-photographer, Mark Holloway. Steve is also a
technical writer and programmer
and writes
gothic fiction
. Steve studied Psychology at OSC, and Anarchy in the UK: A History of Punk from 1976-1978 at the University of Reading.
Discover More Culture