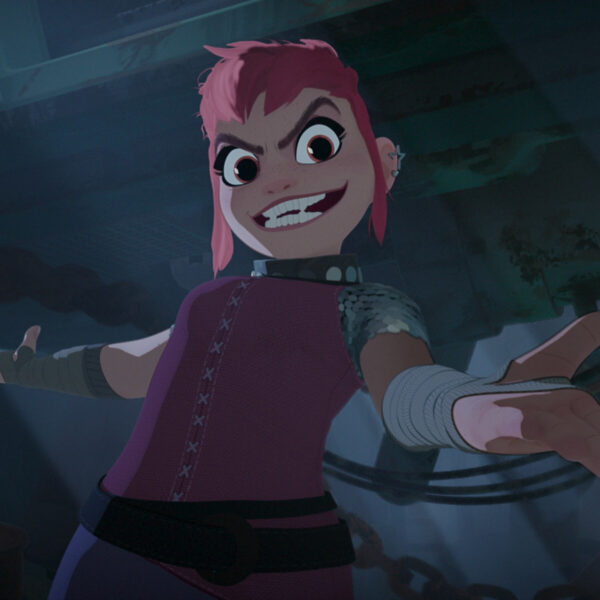 Annupurna Pictures
Nimona
Nimona is a heart-warming animated sci-fi/fantasy film featuring Chloë Grace Moretz and Riz Ahmed. It's set in a futuristic city that's protected by a force of knights. The knights are trained to protect the kingdom from the monsters that lurk behind the great walls around the city.
In the film, we're introduced to a chaotic but misunderstood teen who possesses the ability to shapeshift into anything she desires. She enjoys causing destruction and mayhem wherever she sets foot and loves a bit of drama. This can mean people view her as a 'monster', but is she really the villain everyone thinks she is?
The movie begins by telling us about Gloreth, the hero of the kingdom. She rises up in the city's darkest hour and slays one of their greatest threats – a towering beast with many eyes. Gloreth vows that her people will never be vulnerable again, so she builds a wall around her hometown to prevent the other monsters from entering. As an extra precaution, she trains a team of knights to follow in her footsteps and protect the kingdom from further harm and decrees that their descendants would do the same for generations to come.
A thousand years later, a young man called Ballister is about to be made a knight. He is going to be the first commoner to be one; every other knight in history has been related to Gloreth. The queen granted a place at the institute after a young Ballister broke into the grounds and declared 'I'm here to slay monsters and protect our kingdom.'
Ballister will be knighted alongside Ambrosius Goldenloin, a direct descendent of their hero Gloreth, and he is the most anticipated knight of his generation. But, Ballister finds it hard to live up to everyone's expectations.
On the day of the ceremony, the queen is killed and society is destabilized. This triggers a series of events; Ballister is accused of murder and retreats to an abandoned tower where he meets Nimona, the shape-shifting teenager.
From here, we are introduced to Nimona's chaotic personality and destructive persona, which you warm to throughout the story. Ballister hesitates to welcome her into his life, but she insists on being there anyway, no matter what he says. As the story goes on, he starts to accept her for who she is, and they become an unusual but effective duo.
The soundtrack in this film is fantastic. Some of my favourites include 'T-rex' by K.Flay, 'Grrrl Like' by Dope Saint Jude, 'Gold Guns Girls' by Metric, and many more.
I personally love this film and I'm shocked it was almost discontinued when Disney shut down Blue Sky Studios. Fortunately, all these years later, Annapurna Studios and Netflix decided to finish the movie and it's now here for everyone to enjoy. I can't get enough of Nimona since they really did a great job; every scene is packed with thought-through comedy and meaningful moments to touch anyone's heart. I recommend this film to everyone.
Watch the official Nimona trailer.
Written by Lily on
Lily is our youngest journalist and covers content in our culture section, such as movies and TV series.
Discover More Culture