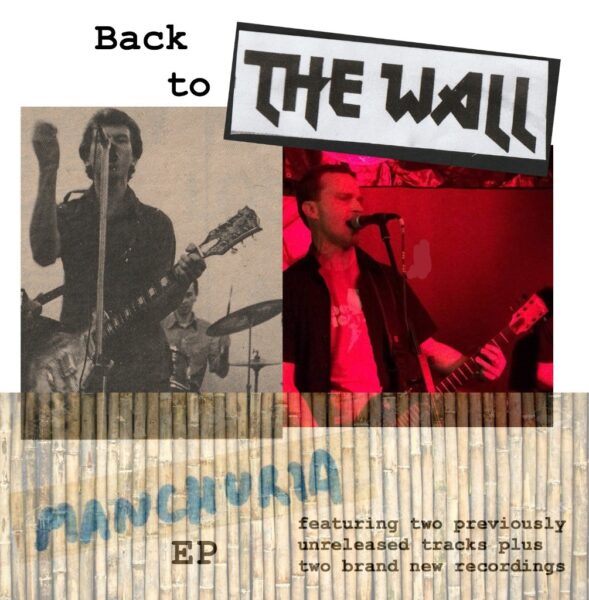 The Wall
Back to the Wall EP
After four decades of touring, The Wall played their last live show in 2017. Founders Andy Griffiths and Ian Lowery have both been lost to the music scene since this performance. As a tribute to Ian and Andy, Spectacle Music teamed up with Al Gregg (Three Minute Warning / Four Minds Crack) who joined The Wall all the way back in 1982 to produce the Back to the Wall EP. The record features two unreleased tracks, and two tracks penned between 2007 and 2017 that were never recorded until now.
'Manchuria' definitely has that early punk sound with power chords, pace, and a great woah-backed chorus. There's great rhythms in the guitars and an unusual brief melodic solo; but there is no doubt form the first chord that this is rooted firmly in punk vintage.
With a hint of sparkle in the opening riff, 'Time' has a nice slow-punk rhythm with the bass providing a really nice counter to the guitars. Tonally, it slots right into 'Manchuria' even though there are lots of subtle stylistic differences. The chorus thickens things up, providing a contrast to the shimmer in the verse; and there's a neat middle section that is a dream-like swirl.
A big guitar rake drags us into 'My Perfect World', which features a guitar riff that brings to mind Steve Stevens. There is also something Joy Division-esque in this song that I find incredibly compelling. This song has a more blistering solo that the other tracks, with the bass and the drums throbbing away underneath.
The final track, 'Bastard', starts with an air-raid siren and harks back to early punk chord progressions. The sound is crunchy and definitely sounds older than it's 15 years.
The great thing about this EP is that the songs, which span a good forty years, fit together like they were all written for the same album. There are lots of differences, which makes it detectable that they emanate from different eras, but the production is such that there is no jarring analogue-to-modern tonal change between tracks. This EP would sound AMAZING cranked out loud on vinyl.
You will find the EP on The Wall's Bandcamp page where it will be released shortly!
Written by Fenton on
Steve Fenton writes in our music, words, and culture categories. He was Editor in Chief for The Mag and covered live music for DV8 Magazine and Spill Magazine. He was often found in venues throughout the UK alongside ace-photographer, Mark Holloway. Steve is also a
technical writer and programmer
and writes
gothic fiction
. Steve studied Psychology at OSC, and Anarchy in the UK: A History of Punk from 1976-1978 at the University of Reading.
Discover More Music