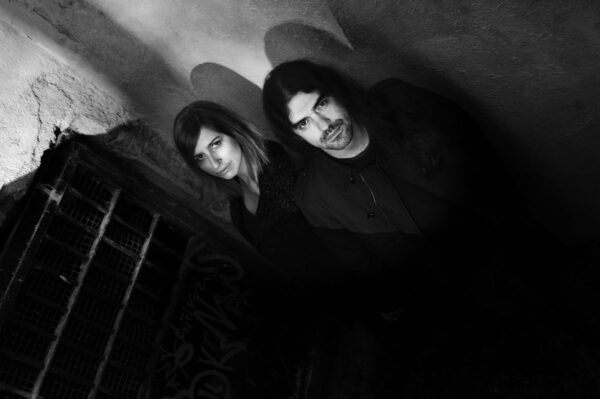 Universal Theory
The Most Attractive Force LP
Universal Theory are an atmospheric and tenebrous studio project from Madrid who combine a Nine Inch Nails guitar-led industrial sound with Therapy style riffs and a baritone/bass lead vocal.
Jesús Pinilla provides the instrumentation and programming as well as the main vocal. There is also an alto vocal from Maria Jose Martos, which sometimes pushes higher up the range. The guitar provides riffs and fuzz, with keyboard hooks around the edges in the first track, 'Before Sunrise'. This is a good choice for an opener as it's one of the most broadly appealing songs on the record.
Originally released in 2015, the record explores different directions for each subsequent track, sometimes dark and religious sounding, other times verging on new wave, and just occasionally an alt-indie edge. No matter where they point their compass, the feels are goth/rock/metal even though things aren't on the extreme end of the spectrum. 'Somewhere Else' has great full-bodied guitars, 'Unfinished Desire' morphs into a soundtrack, and 'Romance i' sounds like a lost track from The Crow soundtrack (as does 'Romance ii' later on the album, with its great synth line and chops).
There's a strong piano motif in the title song that is given space by the guitars, which retreat into a chugging dark fuzz. This song has great potential – a few minor adjustments could make it punch through (more on that later). It's got a strong hook and a neat composition, with Martos' vocal being put to good use in the chorus.
Album Production
If I was a producer, which I'm not, I think I'd encourage the vocalists to play off each other a lot more. The vocals aren't a great pairing in terms of melody/harmony, but a melodic dual between them could create something amazing. A call and response or even an 'In Praise of Bacchus' interplay would suit their music.
A version of 'The Most Attractive Force' where the pre-chorus was split with the first line going to Maria ('It Feels Like Gravity') and the second to Jesús ('It Feels Like Purity') would build an immensity of atmosphere, with the deep vocal reserved for the verse and the top-line unleashed for the chorus.
The rhythmic chops of 'Romance ii' could also make a few more appearances, as the momentary dynamics make the rich sound punch through. You don't know how dark it is until someone switches on a light, and these brief stop/starts make the soundscape all the more epic.
However, they've certainly done a good enough job as a self-recorded, self-mixed, self-produced record.
Album Summary
'Romance ii' was a stand-out track for me, but I also think there are other songs on this record that could be beaten into shape as epic atmospheric tracks. In terms of atmosphere, they've nailed it. They were after a dark and twisted melodrama, and they certainly created it here.
This is one for fans of the darker stuff who want to hear something off the beaten track. I'd like to hear a new album from this band.
Listen to Universal Theory – Romance ii.
Written by Fenton on
Steve Fenton writes in our music, words, and culture categories. He was Editor in Chief for The Mag and covered live music for DV8 Magazine and Spill Magazine. He was often found in venues throughout the UK alongside ace-photographer, Mark Holloway. Steve is also a
technical writer and programmer
and writes
gothic fiction
. Steve studied Psychology at OSC, and Anarchy in the UK: A History of Punk from 1976-1978 at the University of Reading.
Discover More Music