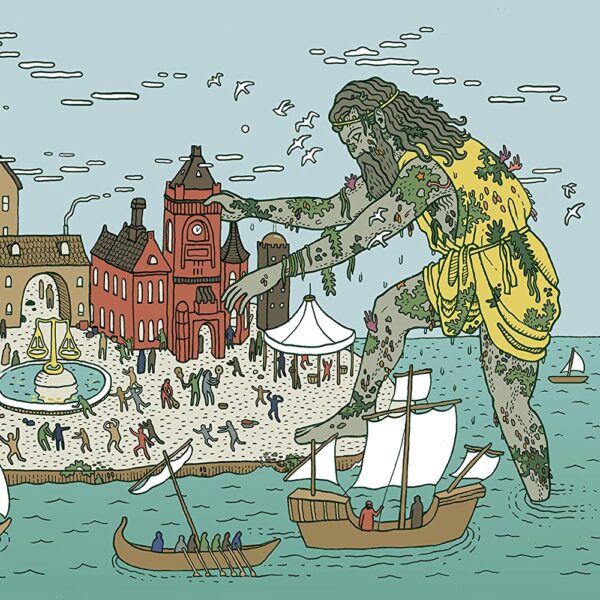 The Trials of Cato
Gog Magog LP
There are many routes back to the giant Cawr-Madog, but it matters not whether you get there via Geoffrey of Monmouth, Marcus Annaeus Lucanus of Cordoba, or Richard Carpenter of, erm, Norfolk. As the album cover delightfully renders him, he's a giant of some twelve cubits in height (about six metres). He's climbing out of the sea because that's where Corineus threw him.
The legend ties into great stories of Greece, Rome, King Arthur, the Aeneid, and De Bello Civili (as well as the 1980s Robin of Sherwood, which drew from this legend and folklore).
But why dedicate the whole opening section without mentioning the music, the intricate arrangements, or, you know, the songs? Because we can't examine the leaves and flowers without first examining the roots and the soil.
Yes, this is a record in full bloom. There are instrumental delights, songs sung in different voices and languages, and a level of craft in the production that is frankly astonishing – but it's flourishing because it has more than a passing connection to the very bedrock of the tradition. Just as a modern writer can take inspiration from the classics and bring the deep heart of the work to a new audience, The Trials of Cato perform archaeology on the striated layers of folk history and use it to create their work. Not unlike David Evans, who created the Gog and Magog statues for London's Lord Mayor's show after the figures used since 1709 were destroyed during World War II.
So yes, there are great songs on this album. 'Paper Planes' and 'Ring of Roses' showcase the new element Polly Bolton brings to the band, a kind of jazz-infused folk with a P. J. Harvey undercurrent. This line-up change is also manifested through songs like 'Aberdaron', where the harmonies are given an extra edge.
This isn't the only change, there are some new things going on in the guitar department, with some additional atmospheric effects making occasional appearances. There's also some piano on this record. That's lots of differences to make the album distinct from Hide and Hair, yet it dovetails well enough.
My personal favourites include 'Kerhonkson Stomp', 'Boudicca C. Ad 60', 'Dawns', and 'Aberdaron'. There's nothing on the record short of top quality, but these are right up there for me.
The Trials of Cato have produced an album that rises to their reputation. Yes, the roots are deep, and the soil fertile. Gog Magog is a giant of an album with a multitude of great songs. Have a listen and rest assured, they also sound this good when they play live.
Listen to The Trials of Cato – Aberdaron.
Listen to The Trials of Cato – Boudica C. Ad 60.
Written by Fenton on
Steve Fenton writes in our music, words, and culture categories. He was Editor in Chief for The Mag and covered live music for DV8 Magazine and Spill Magazine. He was often found in venues throughout the UK alongside ace-photographer, Mark Holloway. Steve is also a
technical writer and programmer
and writes
gothic fiction
. Steve studied Psychology at OSC, and Anarchy in the UK: A History of Punk from 1976-1978 at the University of Reading.
Discover More Music