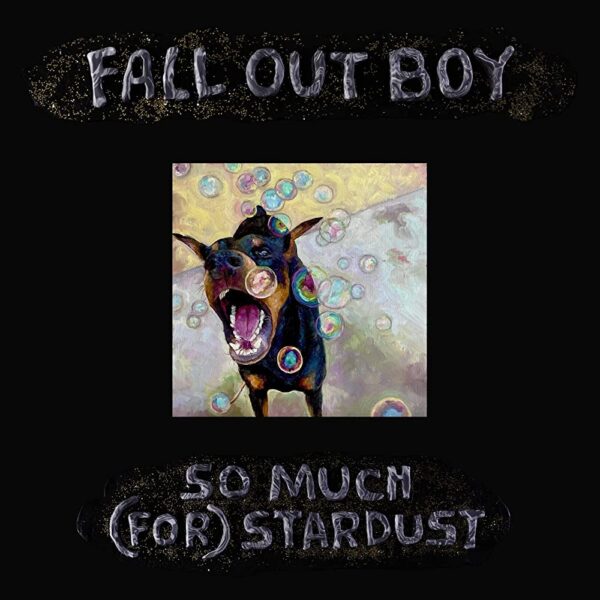 Fall Out Boy
So Much (For) Stardust LP
Fall Out Boy are back with their eighth long-player, So Much (For) Stardust. Brace yourself for a great deal of praise, as they've totally nailed it with this record.
The anticipation as the strings build us into this album is almost too much. 'Love From The Other Side' is a song that knows it's stepping up to do a seriously tough job, drawing us into So Much (For) Stardust. Then after thirty-six-and-a-half seconds, it punches through, and we're in an instant classic.
Fall Out Boy famously give us several distinctive points. Punchy rhythmic chops (check), incredible melody (check), references to other genres (check), and almost-ridiculous song titles with paragraph lengths (well, things are quite restrained in this respect – though they are heading back in that direction compared to American Beauty / American Psycho).
'Heartbreak Feels So Good' follows with a theme of indulgent suffering. It all starts with an interplay of bass synth, joined by a synth motif that dances over the top. Before long, it's transforming into a full-band emo anthem.
An eighties-style bass pumps 'Hold Me Like a Grudge' into life. The verse is a throwback for sure, but the chorus ties it into something close to Paramore's After Laugher transition. 'I'm just a cherub riding comets through the night sky, screaming at the stars like night lights,' sings Stump in the pre-chorus.
'Fake Out' is softer around the edges, Stump's vocal muted in the verse, coming to life in the pre-chorus and melodically soaring as the anthem lands. It sounds like a love song but with a bitter twist.
Love is in the air, I just gotta figure out a window to break out
Buried alive insidе my dreams but it was all a fake-out
'Heaven, Iowa' mixes a soulful pop verse with a stomping chorus. The song's title references the 1989 baseball film, Field of Dreams, in which Shoeless Joe Jackson asks: 'Is this heaven?' Ray Kinsella replies, 'no, it's Iowa.'
There's a big throwback to 'So Good Right Now'. The music and the 'oh-oh oh oh oh oh' hook line hark back to the sixties. Answers on a postcard please if you can nail down that reference as I've drawn a blank. There's a later throwback to the seventies in 'What a Time To Be Alive', which has a strong Earth, Wind, and Fire vibe.
An epic melodrama, 'The Pink Seashell' features a spoken narrative from Ethan Hawke (who starred in the 1994 film Reality Bites, which inspired this song).
Reaching for philharmonic elements 'I Am My Own Muse' has orchestral trills, harmonised guitar solos, and heavy emo stomp. It's like a Bond-theme medley. Over-the-top in a most deliberate fashion.
One of my favourite album tracks, 'The Kintsugi Kid (Ten Years)' has a smouldering guitar in the verse and a great pop chorus. The different treatments of the song's elements provide a real sense of development. I even love the synth solo before the breakdown.
'So Much (For) Stardust' closes the album with a suitably indulgent composition. Like the opener, it's a bookend to a massive collection of songs.
Fall Out Boy fans are going to lap this up. This album is really of the canon and is stuffed full of energetic sophistication. There's even a Pete Wentz spoken-word interlude in 'Baby Annihilation'. The lyrical art is present, and the melodies are huge. Nothing on the whole record feels like it detracts from the work as a whole. Everything earns its spot on this record, and I predict it will get a lot of plays.
Watch Fall Out Boy – Love From The Other Side.
Fall Out Boy Articles
Written by Fenton on
Steve Fenton writes in our music, words, and culture categories. He was Editor in Chief for The Mag and covered live music for DV8 Magazine and Spill Magazine. He was often found in venues throughout the UK alongside ace-photographer, Mark Holloway. Steve is also a
technical writer and programmer
and writes
gothic fiction
. Steve studied Psychology at OSC, and Anarchy in the UK: A History of Punk from 1976-1978 at the University of Reading.
Discover More Music