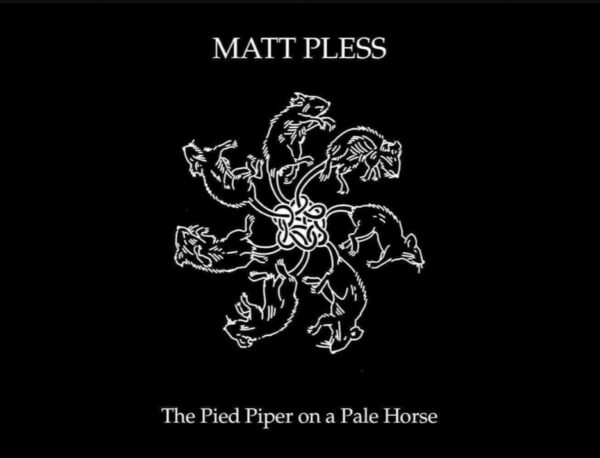 Matt Pless
The Pied Piper on a Pale Horse
Matt Pless has dropped an epic oddity with 'The Pied Piper on a Pale Horse', a poem-to-music with visceral lyrics that, for me at least, put this firmly in the alt/punk performance poetry zone.
The song is brooding and angsty. Pless brings more emotion to the lyrics as the song progresses. The words also get sharper teeth throughout, making the song truly punch. His own explanation for the song accompanied the release:
What began as a train of thought poem I cranked out in a half hour became a month long recording journey…
The music is a simple beat with a bass line, guitar, and keys. It's there for the words to float over. All the dynamics come from the vocal delivery. The song really shows off some masterpiece writing and it's resulted in something where it's got the Pless signature all over it, despite being very different to the stuff we've heard from him before.
What a powerful single.
Watch Matt Pless – The Pied Piper on a Pale Horse.
The Pied Piper on a Pale Horse Lyrics
Here's just an extract of my favourite section, the full lyrics are available here.
I am Lady Liberty
with a razor and a slit wrist
bleeding freedom onto a melting ice cap

I am Uncle Sam
caught red handed
spitting on the ashes of the American dream

I am the face of a spinning compass
soaked in the shame of a lost boy who's afraid to be a man

I saw a skeleton Gestapo
tipping the scales of justice
wrapped in a burning flag

I am the gluttonous personification of the Jeffersonian vision
overdosing in a Virtual Reality helmet;
a nameless, monetized, processed, plastic-brand cash grab
pimped in the abandoned Valley of God.

I am the sundown vulture
perched on the bleached bones of the fallen pilgrim crossing the border

I am the devil in a peyote Cadillac
feasting on the flesh of the zealots impaled outside the Garden of Eden

I'm the black death rattle in the season of the witch
and the plague rats scratching at the casket lids

I am Robin Hood
buried alive in a Wall Street bank vault
at the foot of a golden throne
Written by Fenton on
Steve Fenton writes in our music, words, and culture categories. He was Editor in Chief for The Mag and covered live music for DV8 Magazine and Spill Magazine. He was often found in venues throughout the UK alongside ace-photographer, Mark Holloway. Steve is also a
technical writer and programmer
and writes
gothic fiction
. Steve studied Psychology at OSC, and Anarchy in the UK: A History of Punk from 1976-1978 at the University of Reading.
Discover More Music