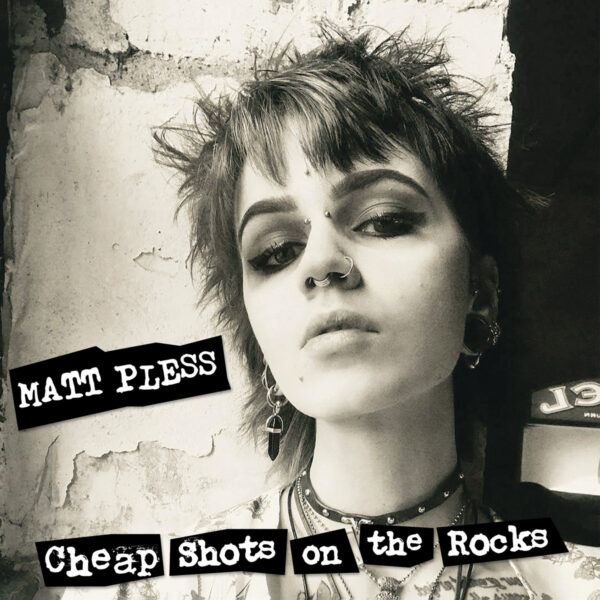 Matt Pless
Cheap Shots on the Rocks LP
If you don't know the history of Matt Pless, it all started when he was eight years old when he wrote songs to perform to his class. His career had a pop-punk era with 3 Prong Outlet, before Matt moved into the folk genre. His new record rolls these previous styles into a power-pop / rock and roll super-genre.
There's a mix of song styles on this album, which has elements of folk, blues, rock and roll, power pop, and even punk revival. Stitching together such diverse sounds doesn't seem to be a problem for Matt Pless, who unifies it all through a storytelling style of songwriting.
The album is arranged to mix the styles up, rather than allow a run of similar themes. This helps you discover more of the different stuff as you explore the songs.
We've already talked a little about 'Disco Ball', and it's a great choice of opener. It's got a rock and roll heart, with some classic elements combined with modern energy and poetic lyricism. Well, 'That's What I Get' keeps the party going. It's like early Greenday with added Bob Dylan moments, and it's a hit.
Recent single, 'Play it Again, Archie' has great storytelling and references classic sixties melodies in the chorus. The guitar solo could have convinced Marvin to phone his cousin at the end of Back to the Future. Songs like 'More Than Just a Girl' and 'Where No One Ever Breaks Your Heart' have the same energy as these three openers.
There's cheeky humour to 'Love and Drugs', the title anchoring the lyrics throughout. A song about drugs being bad is one thing, but equating the damage of chemicals with the damage of falling in love is another brilliant move.
They've broken my heart
and they've stolen my soul
by sending my life spinning out of control
I'm giving them up 'cause they've taken their toll
so goodbye love and drugs
'Black-Eyed Susan' and 'This Thing Called Love' deserve special mentions for their White Album era Beatles-style picked guitars. However, it's more often the Dylan references that rise to the top in the pacey songs as well as in 'Here's to You' and 'Charlotte Divine'.
The title track 'Cheap Shots on the Rocks' feels like a reprise to 'Disco Ball', rounding off the album neatly (and serving to prepare for a repeat listen).
There's something a bit special about Matt Pless when it comes to lyrics. They are playful and witty but also searching. It's definitely got folk running through it, but there are lots of classic power-pop and rock and roll elements, too. We'd call it folk-punk revival, but that doesn't do the songwriting (and especially the lyrics) justice.
Matt Pless Articles
Discover More Music