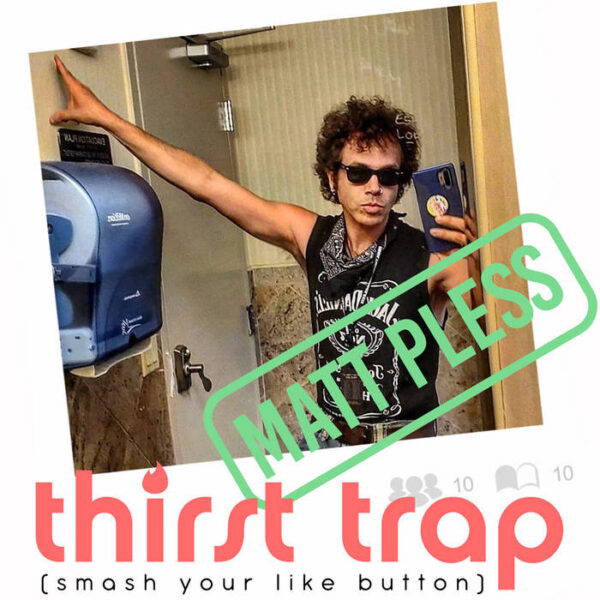 Matt Pless
Thirst Trap
Matt Pless delivers a folk-country song with warm-hearted cheeky humour in 'Thirst Trap (Smash Your Like Button)'. It all starts with acoustic guitars, one providing a fast rhythm and the other delivering a plucked tune.
We're then into the first verse and it's all about the lyrics. The song is a parody of a huge slice of social media, as the song title alludes. The subject is treated playfully, but the penmanship is no less from the humour. While many lyricists are relieved to land a rhyme, Pless likes to dive into poetic skills like assonance to give you extra bang for your buck.
Researching this song to try and capitalise the correct collective nouns was not a task for the faint-hearted, but my bookmarks helped a great deal. I now know all about thirst traps, twinks, and a new meaning for the term "smash". Life will never be the same.
Pless is always playful, but this song is the unleashed version.
Watch Matt Pless – Thirst Trap.
Thirst Trap (Smash Your Like Button) Lyrics
She's a beautiful face filter
On a doom-scroll Friday night
Singing punk rock in her thirst trap underwear
So I send a heart emoji
She reacted with a like
Now she always greets my status with a share

Sliding in her DMs lurking
Sent me Snapchats of her twerking
She's the kind of avatar I'm all about
But I can't afford subscriptions
So I'll ask her for permission
For admission to her Onlyfans account

Swipe right and let me smash your like button
It hit the spot she couldn't get enought
Swipe right and let me smash your like button
She met her match and then she fell in love

She's an emo Tinder Tweet queen
With the algorithm blues
I'm a hash-tag pimp who's got a way with words
And there's bots and thoughts and lots
Of rotton options she can choose
But she knows I've got that content she deserves

Selling feet pics dancing on Twitch
Gets her kicks from ghosting twinks and thinks
My bandwidth's thicker than she would expect
She said boy I like your style
Stick with me we're going viral
'Cause she's kind of famous on the Internet

Swipe right and let me smash your like button
A little harder 'cause she likes it rough
Swipe right and let me smash your like button
She met her match and then she fell in love

She's a cash-app Bumble baddie
Screaming monetize me daddy
If you add me you can tag me all the time
When she takes a trip to Bangkok
You can watch it live on Pornhub
But just wait someday I'm gonna make her mine

Swipe right and let me smash your like button
She knows my screen is tender to her touch
Swipe right and let me smash your like button
She met her match and then she fell
She met her match and then she fell
She met her match and then she fell in love
Discover More Music