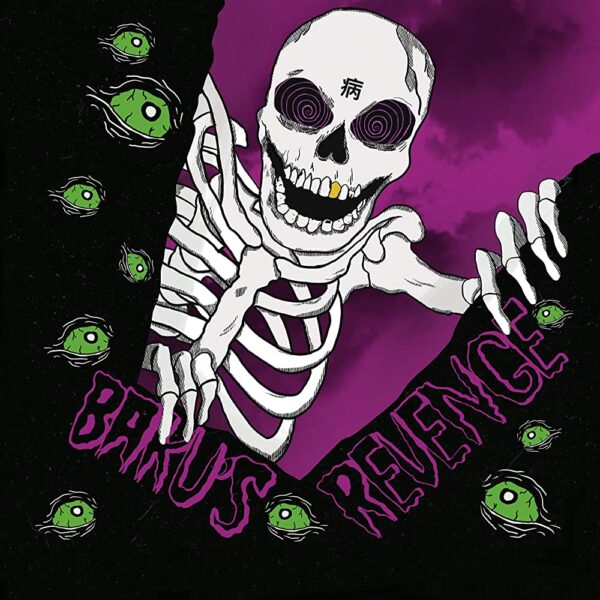 Magnolia Park
Baku's Revenge LP
Every time Magnolia Park surfaces on our playlist, we talk about how great they are. Baku's Revenge is their second long player and home to 'Feel Something', 'I Should've Listened To My Friends', and 'Addison Rae'.
Interspersed by three interludes (plus the bonus interlude that introduces 'Addison Rae'), the album has a design that goes further than choosing song order. It's got rise and fall and storytelling all baked in.
There are plenty of anthems on this album. The aforementioned singles are particularly high-quality. There's also 'Misfits', which features Taylor Acorn. This track has a stomping beat and a stormy atmosphere that fits with the lyrics about a toxic relationship.
'Radio Reject' is autobiographical and one of the hookiest tracks on the record. A good driving verse with all the loud reserved for the big chorus. 'Drugs' has strong Skiba-era blink-182 feels, with a rapid intro and chorus contrasted with dropped verse loop. There's a la-la-la synth/vocoder motif that works like an off-balance reprise to the 'Feel Something' melodic echo.
Despite an elevated beat, 'Paralyzed' has a great dark twist that gives it a substantial flavour. The lyrics go deep, recounting flashes of memories before becoming almost philosophical in the chorus.
I'm paralyzed
Trapped inside
We're addicted to our traumas
Just another broken saga
There's a post-party shiver to 'Ghost 2 U',
As well as the singles (all stunners), there's a truckload of anthemic and atmospheric music on this album. Magnolia Park can kick up a ruckus but also bring the feels. This is a great album. Catch them on their US Baku's Revenge Tour, which runs from March to the end of October 2023.
Watch Magnolia Park feat. Taylor Acord – Misfits.
Written by Fenton on
Steve Fenton writes in our music, words, and culture categories. He was Editor in Chief for The Mag and covered live music for DV8 Magazine and Spill Magazine. He was often found in venues throughout the UK alongside ace-photographer, Mark Holloway. Steve is also a
technical writer and programmer
and writes
gothic fiction
. Steve studied Psychology at OSC, and Anarchy in the UK: A History of Punk from 1976-1978 at the University of Reading.
Discover More Music