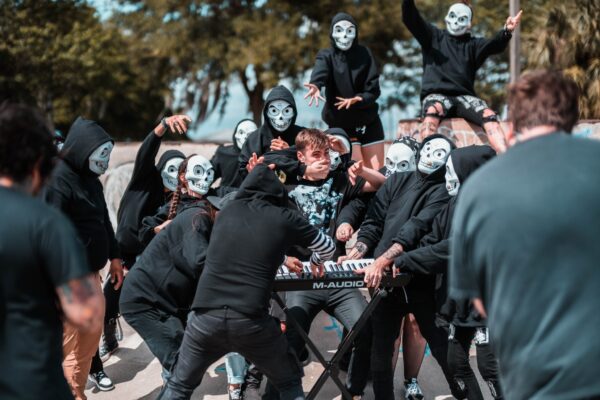 Magnolia Park
Feel Something
Magnolia Park team up with Mayday Parade's Derek Sanders for their latest single, 'Feel Something'. The video evokes Sum 41 or Good Charlotte, the band nestled in the nurturing bowl of a skate park, with fans in hoodies and masks like a slasher horror.
The music isn't horror, though. Not by any means. As with many Magnolia Park releases, there's a pop-punk heart that drives an incredibly upbeat and positive track. The song provides all the instructions you need to benefit the most from this track… sing out loud, jump around, touch the sky, and mosh in the crowd. Make a list. Check it all off.
Musically, the drums are hard at work in this track. The chorus beat hits Angels and Airwaves territory, while the guitars go full tilt beneath Joshua Roberts' melodic vocal. Sanders joins at the halfway mark, providing a verse and then joining Roberts in the chorus.
Magnolia Park keep delivering pop-punk tracks that demand a place on your playlists!
Watch Magnolia Park – Feel Something
Written by Fenton on
Steve Fenton writes in our music, words, and culture categories. He was Editor in Chief for The Mag and covered live music for DV8 Magazine and Spill Magazine. He was often found in venues throughout the UK alongside ace-photographer, Mark Holloway. Steve is also a
technical writer and programmer
and writes
gothic fiction
. Steve studied Psychology at OSC, and Anarchy in the UK: A History of Punk from 1976-1978 at the University of Reading.
Discover More Music