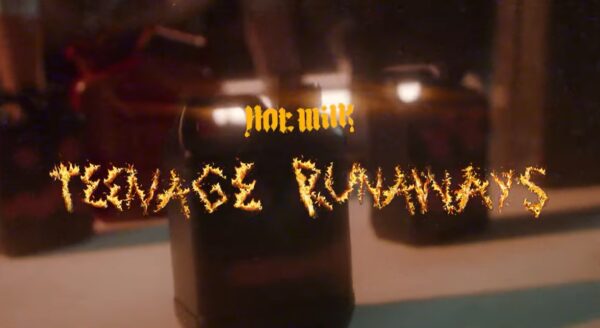 Hot Milk
Teenage Runaways
With their new EP, The King and Queen of Gasoline arriving on 5th August 2022, 'Teenage Runaways' gives us another example of what to expect (after recent single 'Bad Influence'). Let's disassemble this packed single because there is plenty going on.
We start off with some fuzzy bass and a solid beat that quickly leads to the angsty verse. Next, we have a pre-chorus, which is throbbing with expectation, and then the stomping anthem of a chorus. The transitions between elements are pretty forceful, which suits the emotion of this single. It takes full 90-degree screeching turns with the dial spinning from furious to hopeful at a moment's notice.
You can get a taste of the musical consternation in the equally angular lyrics, delivered by Hannah Mee and backed by Jim Shaw's most thunderous fry on alternate lines:
I was born in restless bones
Raised in a soulless home
Are you uncomfortable?
'Cause I'm dysfunctional?
The chorus and the guitar hook are both big elements in this song, with the bass intro providing an additional riff. Not many bands let so many great lines make it into a single song; it's tempting to hold back one of them as the basis for another song. Not so with Hot Milk as they confidently slam down whatever moments of genius they have to hand, without keeping anything in reserve.
Written by Fenton on
Steve Fenton writes in our music, words, and culture categories. He was Editor in Chief for The Mag and covered live music for DV8 Magazine and Spill Magazine. He was often found in venues throughout the UK alongside ace-photographer, Mark Holloway. Steve is also a
technical writer and programmer
and writes
gothic fiction
. Steve studied Psychology at OSC, and Anarchy in the UK: A History of Punk from 1976-1978 at the University of Reading.
Discover More Music