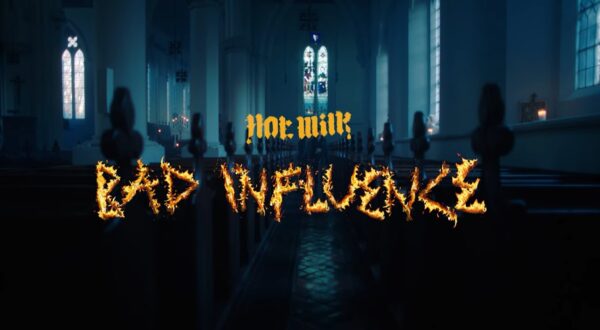 Hot Milk
Bad Influence
With some pretty visceral lyrics and a rhythmic riffing dark sonic backdrop, 'Bad Influence' is a heavy-hitter from Hot Milk. The flaming crown artwork to accompany the forthcoming EP promises exactly what you'll find inside the jewel case, it's a tenebrous and twisted track indeed.
In terms of hotmilkyness, there's little doubt with the energetic chops that this is one of theirs. There are tempo switches and moments that reference 'Candy Coated Lie$'; it's just got a gothic filter.
I'm just a bad influence
You want nothing to do with
Fuck all your friends
They don't know what the truth is
I'll keep digging my grave
You know I'm just a bad influence
You want nothing to do with
Despite all this murky gloom, this track still has pop-level hooks and plenty of stomp – and the chorus is a goliath – so fans are going to love it. It feels like a natural progression from 'I JUST WANNA KNOW WHAT HAPPENS WHEN I'M DEAD', so the full-tilt edginess of any future album is pretty much assured. If we gave out stars, we'd bury the full five with this single.
Watch Hot Milk – Bad Influence
Written by Fenton on
Steve Fenton writes in our music, words, and culture categories. He was Editor in Chief for The Mag and covered live music for DV8 Magazine and Spill Magazine. He was often found in venues throughout the UK alongside ace-photographer, Mark Holloway. Steve is also a
technical writer and programmer
and writes
gothic fiction
. Steve studied Psychology at OSC, and Anarchy in the UK: A History of Punk from 1976-1978 at the University of Reading.
Discover More Music