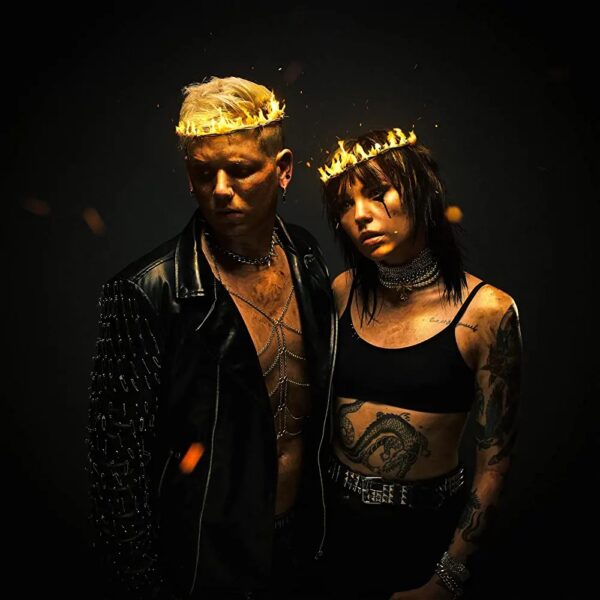 Hot Milk
The King and Queen of Gasoline EP
Hot Milk's highly anticipated extended play, The King and Queen of Gasoline, is released today. We've had some tasters, but what's the complete record like?
The EP starts with 'The King and Queen of Gasoline'. This song has several movements, from the gentle piano intro to the epic drum lead-in to the early guitar work. We get to the first verse, which itself morphs into new shapes as we head towards a chorus that – like so many of Hot Milk's choruses – is anthemic. This is an emo anthem that lands squarely in the My Chemical Romance zone.
So far so brilliant! Next, it's a run of three singles: 'Teenage Runaways', 'I Fell in Love With Someone I Shouldn't Have', and 'Bad Influence'. My summary of the previous reviews on these songs is that they are all high-quality. It should also be noted that there's variety here, too.
'The Secret to Saying Goodbye' is a bouncy track that is probably the closest to Hot Milk's earlier work. There's a surprise revival of the saxophone solo thrown in, which I definitely wasn't expecting. It adds to an atmospheric break that precedes the final chorus/motif run-in.
It is then left to 'Chloroform / Nighmares' to finish things up. This track is very different to its peers; cast like a great net to capture our sadness that the EP is at an end. It's definitely a bit of a tear-jerker with its restrained pace, soaring vocals, and emotional lyrics.
Hot Milk dig deep with their lyrics. Things are emotionally raw and this is what connects so many fans. There are themes of bad love, troubled childhood, self-sabotage, and self-harm. The anarchic treatment of the subjects is proper chaotic punk.
The King and Queen of Gasoline is an EP that can only bring Hot Milk even more success. It's a cracker.
Watch Hot Milk – The King and Queen of Gasoline.
Written by Fenton on
Steve Fenton writes in our music, words, and culture categories. He was Editor in Chief for The Mag and covered live music for DV8 Magazine and Spill Magazine. He was often found in venues throughout the UK alongside ace-photographer, Mark Holloway. Steve is also a
technical writer and programmer
and writes
gothic fiction
. Steve studied Psychology at OSC, and Anarchy in the UK: A History of Punk from 1976-1978 at the University of Reading.
Discover More Music