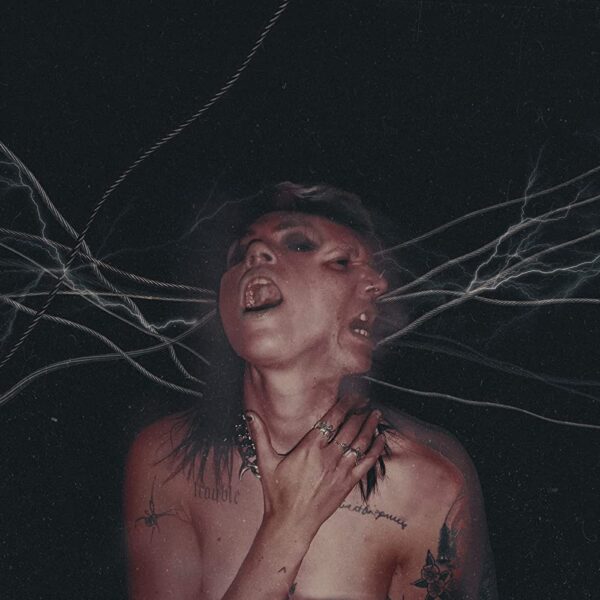 Hot Milk
A Call To The Void LP
The build-up to this album release has been intense and emotional. I barely feel up to the task of discussing it here, the weight of all the anticipation is nothing short of paralysing. Hot Milk seem to understand this, as they start A Call To The Void with 'Welcome To The…'; a thrumming atmospheric short that burns away all that anticipation and welcomes you and I into the music.
After a final refrain of 'am I the darkness?' – it explodes with the triple delights of 'Horror Show', 'Bloodstream', and 'Party On My Deathbed'. These singles provide wired riffs, huge anthemic chorus lines, and emotive lyrics. 'Bloodstream' in particular has long since burned its melody onto my eardrums with the volume-pedalling creating those great audio waves. I can't get enough of these songs.
'Alice Cooper's Pool House' is a rock track with great bounce, inspired by music documentaries that all seemed to feature bands heading to Alice Cooper's pool house for afters. It slides into the more chilled atmosphere of 'Zoned Out', a song about social sucking up our time and real interactions, which has a throbbing verse that bursts into life for a chorus stomp.
Get me out, get me out, I'm lowkey
Feeling all alone now everyone is zoned out
Get me out 'cause I'm dying slowly
Feeling all alone now, everyone is zonеd out
A Call To The Void Gets Heavier
The fuzzy bass of 'Over Your Dead Body' is up next. The album certainly gets heavier here, reflecting the angst in the song's theme. Despite being angular, the song retains a very classical style of wit, with neat lines like 'You think in Piccadilly's gutter, you'll find fountains of youth?' The orchestral additions and precision musical stabs enhance the lyrics and combine Biffy Clyro and Raissa with Hot Milk's sound.
In 'Migraine' we reach a kind of industrial level with the song rapidly switching gears and styles. This song was co-written with Mark Hoppus and it's full of surprises. The screaming pre-chorus a third of the way through the song has such a strong signature I had to spin back several times to bask in its effect.
'Breathing Underwater' supplies a pressure valve at this point, supplying a different emotional source. This slides into 'Amphetamine', which features Julian Comeau of Loveless. This song was originally slated to be the album closer, echoing the opener with its themes of insomnia spinning out different vocal threads that create a powerful close.
But life never leaves a plan untouched, and 'Forget Me Not' was a late addition. The song was written about the passing of Jim's granddad through dementia, with Han helping Jim find the lyrics to express the emotion. It's an emotional one, with powerful lyrics.
And this is the album. It's a journey! It has an arc from the epic atmosphere of the opener, through class Hot Milk anthems, to a heavy section and on into the emotional end.
A Deeper Album Than You Expected
When a band has an anthemic signature, it's easy to overlook the subjects and how they're expressed. There are lines on this record that are superbly crafted allegory, wonderfully evocative, and deeply emotional. Yes, of course, the songs are massive and have more hooks than Mortimer and Whitehouse – but this album is deeper than we all expected.
This is a powerful debut album.
A Final Word From Han Mee
We held on to this reaction post from Han Mee, which she shared back in April. There's something special about inhabiting the moment when the album was completed, so we're going to quote it verbatim so you can feel the shiver of that special moment. Thanks Han.
just listened to the final masters for the debut album I've always wanted to make since I was 9 yrs old. I listened to it in my childhood bed at night, just how i used to listen to music when I was a kid. I'm fkin sobbin like a right soft git, it's taken nearly 20 yrs to get here

bein born in a small town in the north i felt so disconnected from the arts,, I remember gettin bollocked by family members for wantin to do this, "don't be so bloody stupid", this wasn't somethin that was even an option for me,, so i moved out as soon as i could n didn't go back

i did a politics degree partly to make them happy, partly coz i had this unending notion for changin the unjust,, whilst at uni I played in so many fkin shit bands,, I started tourin for free taking photos of bands,, i vlogged on YouTube ,, anythin I could to stay creative,

i immersed myself in the local scene, joined loads of bands, put on shows n several failed bands later when I'd nearly given up i met a boy called James Shaw on tinder, we dated for 4 years n then went through grief together which is when we started writin songs to heal,,

now, we were seperate but closer than ever, bonded by pain n surprised by how easy it was to write music with each other. we knew each other better than we knew ourselves,, he's my same but different. hot milk was born.

when u listen to this record, there's a lot of pain in there, I'll get onto the themes n what it all means later but just know that ur fulfilling the lifelong dream of an 9 yr old girl from a workin class town who always got told she couldn't n always felt left out of this world.

sorry i went on a bit,, lots of feelings,, big history. lots left to say. thank u,, I luv u.

Han Mee
Written by Fenton on
Steve Fenton writes in our music, words, and culture categories. He was Editor in Chief for The Mag and covered live music for DV8 Magazine and Spill Magazine. He was often found in venues throughout the UK alongside ace-photographer, Mark Holloway. Steve is also a
technical writer and programmer
and writes
gothic fiction
. Steve studied Psychology at OSC, and Anarchy in the UK: A History of Punk from 1976-1978 at the University of Reading.
Discover More Music