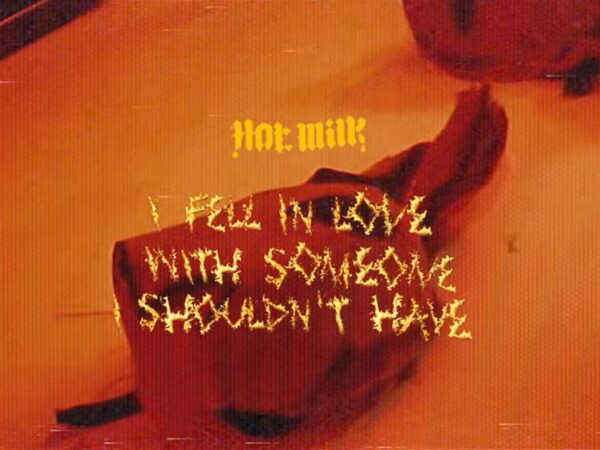 Hot Milk
I Fell in Love With Someone I Shouldn't Have
As if in answer to The Buzzcocks 1978 question, Hot Milk slam out an anthemic and vitriolic anti-love song with 'I Fell in Love With Someone I Shouldn't Have'.
The verse certainly has punk nods, some palm muted fifths and rhythmic open-chord explosions with Hannah's vocal getting an old school plate-reverb. Then it lands in the second verse, thicker but still the second cousin of Salem's 'Draculads'. The Hot Milk moment comes from the huge anthemic chorus and the post-chorus guitar hooks.
Lyrically, the song has bite, and the verse and chorus share the goods in this respect. The chorus oozes with dual-vocal power:
'Causе if I were you, I'd be running away
She is a girl with a temper and something to say
And her heart's not a toy, it's a hand grenade
They say that love is a war and you'll never be saved
You better run 'cause she's an atom bomb
And each verse is sharp and spiky:
I got lost in someone that, that I shouldn't have
Got in too deep with someone that, that I shouldn't have
I know you said that I'm bad, you wanna punish me
Won't get on my knees and call you da-da-daddy
You took everything I had when you shouldn't have
The primary-colour band video is a great delivery mechanism for the song. It hints at the chaos of the live performances as the red, green, and blue scenes are fired at us along with the power of the song.
We're less than a month out from The King and Queen of Gasoline. It's out on 5th August. Can't wait!
Watch Hot Milk – I Fell in Love With Someone I Shouldn't Have.
Written by Fenton on
Steve Fenton writes in our music, words, and culture categories. He was Editor in Chief for The Mag and covered live music for DV8 Magazine and Spill Magazine. He was often found in venues throughout the UK alongside ace-photographer, Mark Holloway. Steve is also a
technical writer and programmer
and writes
gothic fiction
. Steve studied Psychology at OSC, and Anarchy in the UK: A History of Punk from 1976-1978 at the University of Reading.
Discover More Music