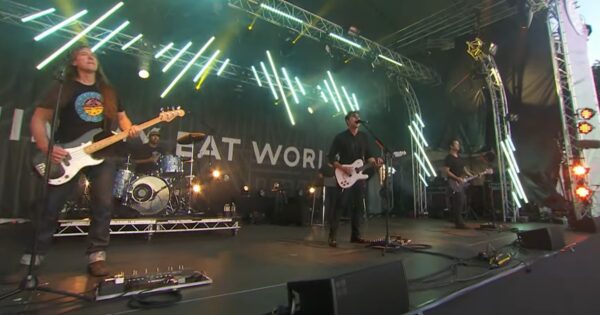 Jimmy Eat World
Live at TRNSMT
King Tut's stage is where all the action is at this year's TRNSMT festival in Glasgow. After hosting Beabadoobee, it's now the scene for an epic Jimmy Eat World live performance.
The last time I had this feeling, it was watching Supergrass play live. It's a mixture of "my goodness look at all these amazing songs" and "my goodness these chaps know how to play". This ace combination of utterly blazing anthems and high-quality delivery is more than a little unusual and your bones know it as they thrum with the rhythms.
The walk-on song turned into 'Futures' rather neatly, and throughout the first three songs you could feel things pressing forward as people started getting whipped up. By the end of 'Bleed American' the temperature was a billion degrees and we started radiating heat back to the sun.
I'm not going to list all the amazing tracks (well, I will do that at the end of the article to capture the setlist, but you know what I mean). However, 'A Praise Chrous' sounded amazing and 'Blister' gave us a big angsty chorus. Recent single 'Something Loud' landed well – it's such an anthem that it's immediately right up there with the stuff they have to play if they want to make it off stage.
Glasgow being Glasgow, a small group started a line dance during the set. Before long, a larger group were doing the slosh to Jimmy Eat World. Who can predict what these crazy kids are going to do next?
The run in was strong. 'Lucky Denver Mint' and 'Sweetness' had people singing along and 'The Middle' is always going to be a popular closer.
Jimmy Eat World blasted out an amazing set that was over way too soon. Now we wait for the new album, which 'Something Loud' promised would be amazing.
Setlist
Here's the full Jimmy Eat World TRNSMT 2022 Setlist.
Futures
Pain
Bleed American
All The Way
Big Casino
A Praise Chorus
Sure and Certain
Let It Happen
Blister
Hear You Me
Lucky Denver Mint
Sweetness
The Middle
Jimmy Eat World Articles
Discover More Music