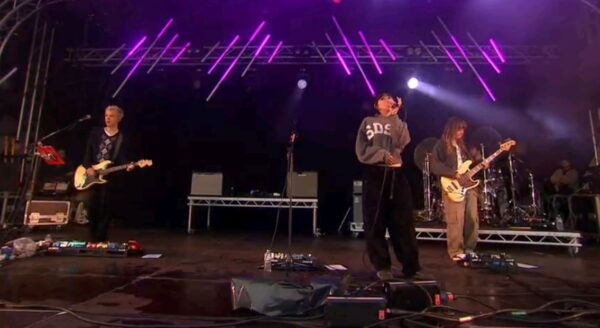 Beabadoobee
Live at TRNSMT
With the King Tut's stage shining black with surface water, a general moist haze, and the band opting for sweaters, Beabadoobee still brought the sunshine to TRNSMT. Always one to look on the positive side of the grey clouds, the summer daylight was suppressed to make the stage and lighting pop dramatically.
The setlist started with a chaotic intro that suddenly bloomed into 'Worth It'. We remained with Fake It Flowers, before taking a tour of the many EPs. That meant there were just a few of the new songs to give us a reminder about the new album. However, the order of play was carefully crafted and landed with success in the crowd of damp bodies.
The rhythmic plot twists from the recordings came across superbly live – the band can make a right chaotic racket, then instantly switch into precision mode to create an awesome tight sound. If you like Pavement or The Pixies, you'll adore this aspect of the music.
After 'He Gets Me So High', Bea gives a genuinely delighted smile before telling us all
Alright, slow it down a bit. This is a little bit making me nervous. Oh my god!
And yes, while 'See You Soon' is a little slower, it's a sweet melodic thumper nonetheless. While the acoustic guitars are out, we also get 'Coffee' with backing vocals from the fine voices of Glasgow's outdoor (primarily beer-drinking) festival choir. I had a good look around and there was one chap in a bucket hat who was drinking coffee. What a legend.
We've been following Beabadoobee for a while… but I was still surprised at the unbroken string of "ooh yeah, I love this one" moments for such an early career stage. The setlist is below. Create this as a playlist and then bask in the sheer excellence.
Beatopia is just about to drop, so you only need to wait until Friday to get your hands on it.
Setlist
Here's Beabadoobee's TRNSMT setlist from 2022.
Worth It
Together
Charlie Brown
Care
Yoshimi, Forest, Magdalene
He Gets Me So High
See You Soon
Coffee
Sun More Often
She Plays Bass
Talk
Sorry
10:36
Back to Mars
Last Day on Earth
Cologne
Discover More Music