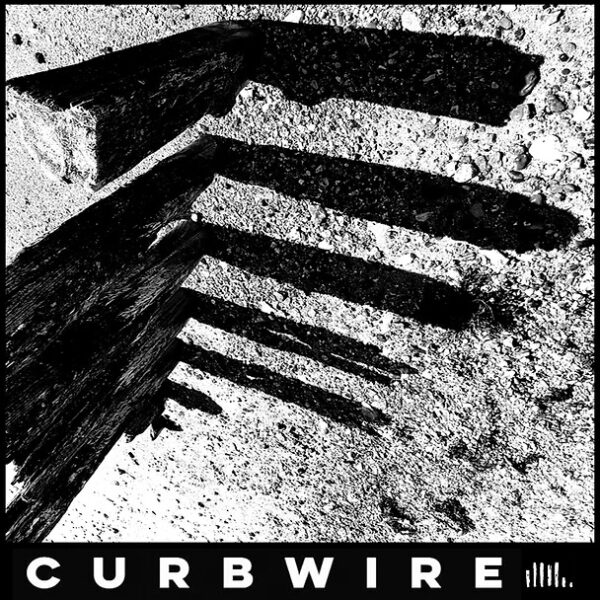 Curbwire
Curbwire LP
Providing a solid edifice of post-grunge richness, Curbwire's eponymous long player is packed with really strong elements. When you listen to a full album, you're always looking out for the gems that stand out from the other material, but I can honestly say that there is no gold-plating here, it's solid gold from top to bottom*.
We'll get the songs shortly, but there's a theme of really interesting song-writing on this record. Little flicks and dodges that make the songs really show up brightly. A little creative twist in the guitar, a feint from the rhythm section, or a melodic spark is what brings something dynamic and imaginative to this work.
The Post-Grunge Punchers
The album starts in the predominant fashion. 'Non Binary' is a creative rock track with lots to love. The instruments really pop and the vocal has just a hint of fry to gruff up the melodic folds.
The pace makes things sultry in 'Habits (Of Excellence)', the guitars sound dark and foreboding. After a riffy intro, we get chunky palm-muted chords and sudden harmonic open strings that I find particularly pleasing.
It's pacier for 'Waves', with a quick beat and guitars that stab a succession of triple strikes to create a neat broken rhythm. With a neat time signature trick in the bag and a heap of dynamic switches, this song is one of my favourites.
The Songs with the Feels
There are some more emotive songs, though they still have punch. Songs like 'Solid Gold'* with the guitar sparkle and soaring vocal, and 'Four Hearts', which is playful with the beat, both have a plaintive edge. They take things even lower in the verse than other songs yet still surface into a rock chorus.
The guitar motif in 'Geraldine' is a pleaser. It takes a few forms, with echoes in the bass rhythm.
Summing up Curbwire LP
The riffy 'Arms Around the Frame', which ends the album, is a good way to segue into the summary. It's as good as any song on the record, proving there is an absence of songs that need to be carried on this record. I'm a total sucker for a vocal interplay and, though it's subtle, there's a great section where the backing vocal weaves around the lead singer
Not many bands sound like this. The closest I can come is Thirst's From Mouth to Skin album. The band were active pre-pandemic, so we're just hoping they haven't been crushed by events of the past few years.
* Yep. We did this.
Written by Fenton on
Steve Fenton writes in our music, words, and culture categories. He was Editor in Chief for The Mag and covered live music for DV8 Magazine and Spill Magazine. He was often found in venues throughout the UK alongside ace-photographer, Mark Holloway. Steve is also a
technical writer and programmer
and writes
gothic fiction
. Steve studied Psychology at OSC, and Anarchy in the UK: A History of Punk from 1976-1978 at the University of Reading.
Discover More Music