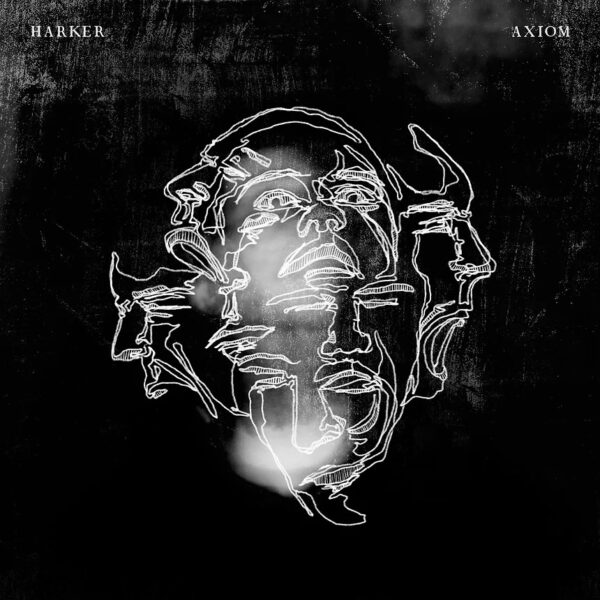 Harker
Axiom
Describing themselves as an emogaze band from Brighton, Harker pretty much deliver on this promise with Axiom. In case you haven't heard of it before, it turns out that emogaze refers to sonically intense songs with sharp lyrics and inventive switches.
With a driving stomp, 'The Beat Must Die' has a chaotic fuzz to its wall of sound. They veer between loud chaos and tight rhythmic craft, proving that the noise is a delivery mechanism of choice rather than some coincidence. The contrast between the two sides to their sound is nothing but enhanced by a real tight switch into 'Sigh of Crows'.
There's an intake of breath before 'Adulthood'. The verse is a restrained guitar over a tidy beat and the chorus notches things up to provide a fuller sound to carry the 'takes a little longer' tagline. There's a huge switch a the three-quarter mark that was surprising and brilliant.
'Hellion' provides a driven rock verse and a soaring chorus before the epicness of 'The Grey Lady' nudges things into Biffy Clyro territory. You can see the pulsating white strobes of the main stage as the band leaps in slow motion black and white… all in you head, of course.
At the more chaotic end of their spectrum, 'Moriah' is a fragmented sounding song that flies in the face of science and works. It's not that it chops and changes, it's just literally put together out of frayed fragments, shooting off in almost random directions. Utterly bonkers and still great.
Even the straighter shots are strong. 'Flex Yr Head' pumps out a pretty unidirectional but anthemic three-minute stormer that melts warmly into 'Daisychain' via a long guitar swim. The song itself is a slower number, but the chaotic overlay remains to stop if becoming anything standard and it has an abrupt sudden stop.
The jolt of energy in 'No Sun' comes at the right time in the album, all the more vibrant after 'Daisychain'. The chorus is very nearly an emo anthem. Lyrically, the 'land with no sun' refers to the environmental catastrophe that scientists have been warning us about (but only since the 1960s!!!!)
It all ends with 'Antenna', a suitably huge album ender with intense noise elements as well as severely cut down sparsity.
Summing Up Axiom
This is a serious album. The skills are serious. The music has a weight that feels serious. The lyrics are serious. It's got experimental chaos throughout and it conjures incredibly dark tones at times, but it's a proper stunner of a collection.
Harker introduce their album with this statement:
'AXIOM' is a statement of intent, a hit back against the apathy of modern living, an attack on idolisation and a call for all the marginalised to take the helm – to kick against the pricks.
Seems like a success to me.
Who are Harker?
Harker a Brighton alt-rock band with sonically intense songs and razor-sharp lyrics. Axiom is their second long-player, after 2018s No Discordance. The new material has similar elements to the first record, but things are darker and more intense.
Harker Articles
Written by Fenton on
Steve Fenton writes in our music, words, and culture categories. He was Editor in Chief for The Mag and covered live music for DV8 Magazine and Spill Magazine. He was often found in venues throughout the UK alongside ace-photographer, Mark Holloway. Steve is also a
technical writer and programmer
and writes
gothic fiction
. Steve studied Psychology at OSC, and Anarchy in the UK: A History of Punk from 1976-1978 at the University of Reading.
Discover More Music