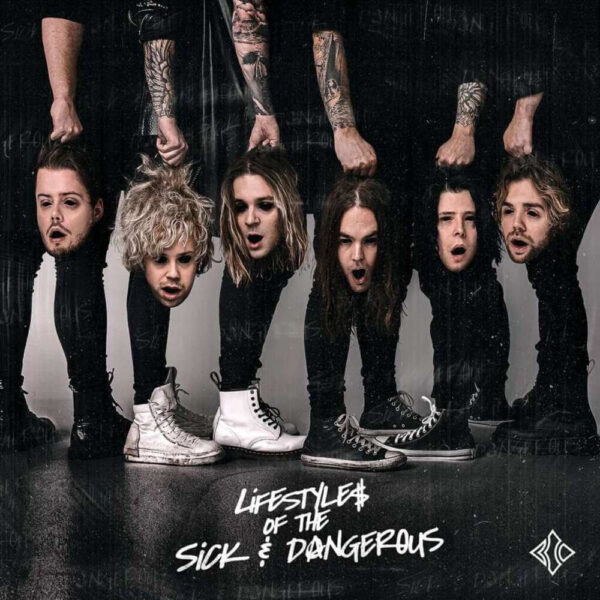 Blind Channel
Lifestyles of the Sick and Dangerous LP
We recently had a taste of Blind Channel's new long-player when they released 'Don't Fix Me'. Now we have the whole record. Strap yourselves in and let's unleash the slamming mix of rock, emo, rap, and punk.
Though the title tips a nod to Good Charlotte, there is minimal reference to The Young and the Hopeless or its smash hit single. Our first offering, 'Opinions', is big on smoulder; it feels big even though the band don't unleash their full fury just yet (it cranks up far more than this).
Next up we have 'Dark Side', which is a storming track (one of Europe's alternative entries to Eurovision – a side note on this to follow). The opening triplet is completed by 'Don't Fix Me', the strongest song yet and one that showcases the angst-anthem that Blind Channel do so well.
'Bad Idea' remains one of my favourite tracks from this band, it's a melodic track but with a thread of darkness throughout. It has been a staple of our HQ playlist since its release all the way back in February.
The middle section is a little heavier with more industrial edges to the sound. 'We Are No Saints' is a stand-out track here with some visceral twists around the 'saints go marching in' backing line. This heavier feel continues through to the final track 'Thank You for the Pain'.
It's essentially a pretty heavy album throughout, there are some really hooky anthems in there and some stuff with more slam. It essentially lives up to the morbid album art with darkness in both tone and lyrics. This might not be violent pop any more, but it's still not the stuff your nan wants you to hear.
This album leaves me with an overwhelmingly positive feeling for the band. They've demonstrated that they have depth. They've had comparisons to Linkin Park and Evanescence, I think this is down to their ability to pen a massive chorus rather than a direct example of their sound.
Blind Channel can deliver substantial heavy stuff, but always seem to find hooks and a chorus.
Watch Blind Channel – We Are No Saints.
Blind Channel Articles
Discover More Music