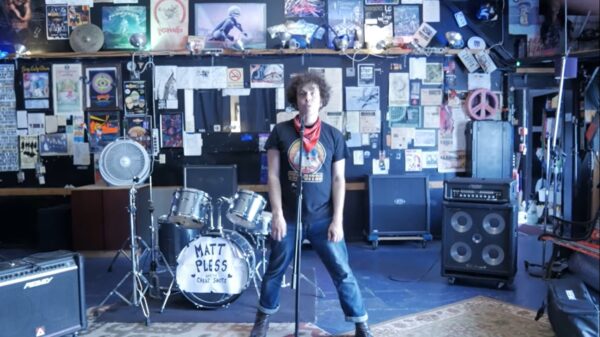 Matt Pless
Play it Again, Archie
With folk and rock and roll elements, 'Play it Again, Archie' comes with a sing-along chorus, a classic solo, and a playful video.
This track has a definite Chuck Berry element, combined with a touch of Greenday's Warning-era songwriting style. Meanwhile, Matt Pless has drawn on folk storytelling chops in the lyrics department to deliver the goods. There are subtle references woven throughout that could be unpacked by a bearded professor wearing loose-fitting corduroy.
Who is this Archie, who appears in the title, but not the song? Is this some kind of reference to the much misquoted Casablanca line? Is the Valleri mentioned herein a Monkees reference?
I have almost no answers except through inference. This is clearly inspired by a past love interest. 'It's a bold choice to use her name,' said one fan. 'But as far as I can tell, it's respectful!'. To this, Pless responded: '…she's immortalized now by one of the best to ever do it… haha. It's a better send-off than a bouquet of flowers.'
The chorus delivers punchy variations on the song's theme, with all roads leading to the same realization… the best love songs are written when it all goes terribly wrong.
Yes, I hope it ends in a tragedy
And the fantasy falls apart
Cause the best love songs always seem to come
From the cracks in a broken heart
The way the chorus switches things up each time might make the sing-along a bit more work for the crowd, but it's my favourite part of the record.
Watch Matt Pless – Play it Again, Archie.
Discover More Music