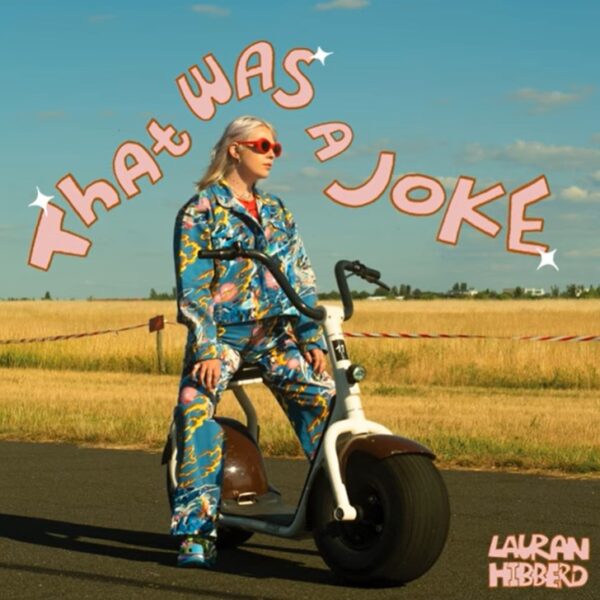 Lauran Hibberd
That Was a Joke
Things are gearing up for Lauran Hibberd's Garageband Superstar, and 'That Was a Joke' is one more reason (on top of 'I'm Insecure', 'Step Mum', and 'Still Running (5k)') to jiggle excitedly in anticipation.
The song has instant Hibberd pop-quirk in the intro, a stuttering verse, a funky pre-chorus, and a chorus that flows like an efficiently evil showerhead when you're eyes are filled with shampoo and you're grabbing at the dial while panicking in the suddenly icy torrent.
The lyrics are the most down-to-earth social commentary since Sleeper's 'What Do I Do Now?', telling the story of someone who is doing just fine without you… except they aren't. The plot ladder here is so relatable you've almost certainly felt this way before.
You don't have to have experienced a break-up to appreciate this track, though. It's got pop sparkle and a signature quirkiness that you only get from Lauran Hibberd. There's a nod to Hole in the 'I'm so happy' line that is unparalleled anywhere else in the song. Few bands can do stuff like that successfully, but this shows us how to do it well – just like the subtle Grohl-tints in 'Step Mum'.
It's a crime that there's no music video for this as a literal telling of the story is crying out to be made for this song. Nevertheless, you can listen to it and conjure the picture in your own head.
Watch Lauran Hibberd – That Was a Joke.
Lauran Hibberd – That Was a Joke Lyrics
Here's our transcription of the lyrics, because we love 'em so much. They also haven't made it onto the usual lyric sites, which means if we don't drop them here you won't be able to sing along. We might not be 100%, so shout at us on social if you disagree.
I wear long johns now you're long gone
I play the bass, use a different toothpaste

Since you left me, oh, not much has changed
I'm so happy I forget your name
I can't even remember your face, ha ha ha

That was a joke
I've been going to theme parks by myself
So I can ride with someone else
And p-p-p-p-put you on my shelf
I'm living a lie
I've been going to bed at half past five
But I still have bags under my eyes
I got a get-get-get a life

La la la la… ah ah ah ah

I cut my hair, get free healthcare
I go shopping, don't buy you things

And now
Because you left me, oh, I'm saving money
Find my new meat, talk to anybody
I've never been so carefree and funny

(Chorus)

Ever since you left I've been so happy
Ever since you left I've been ecstatic
Ever since you left I've been so happy
Ever since you left I've been erratic

I've been so happy!

(Chorus / half a capella)

Written by Fenton on
Steve Fenton writes in our music, words, and culture categories. He was Editor in Chief for The Mag and covered live music for DV8 Magazine and Spill Magazine. He was often found in venues throughout the UK alongside ace-photographer, Mark Holloway. Steve is also a
technical writer and programmer
and writes
gothic fiction
. Steve studied Psychology at OSC, and Anarchy in the UK: A History of Punk from 1976-1978 at the University of Reading.
Discover More Music