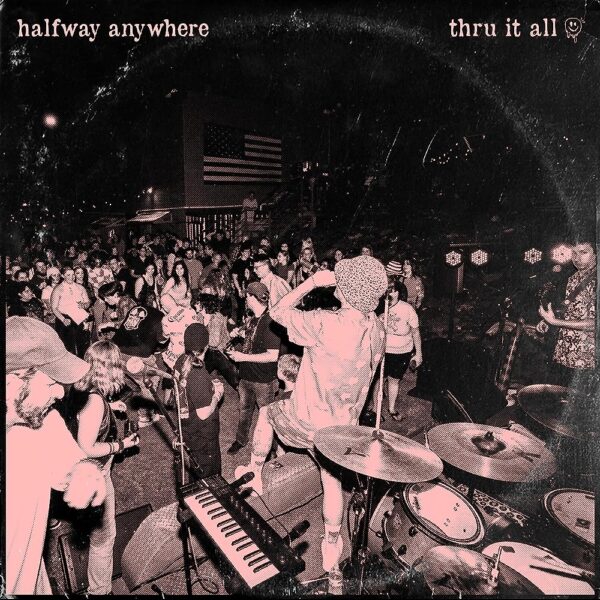 Thru It All
halfway anywhere
Thru It All provide a great emo romp from the first phased bars right through to the very end in their new single 'halfway anywhere'. There is no ideas shortage, but despite throwing the kitchen sink at the song's different elements, I love it.
Let's do a quick run-through. The intro is a phased guitar, then the drums kick in shortly followed by the full band for a few bars. The first verse is a chunky palm-muted half-beat. The instrumental pre-chorus gives a moment of rhythmic pause before the chorus bursts forth, slick and swirling with a distinctive keyboard wash. We then get variations of the verse and pre-chorus, and a middle-eight that heads into new territory.
The chorus is the big anchor, all the other creativity pinned to something familiar within the song – and it's got a big melodic hook.
Youth is wasting away
The sun goes down again
I can't find you anywhere, anywhere
Time is slipping away
You never change
Meet me halfway anywhere, anywhere
This song is like a meeting of All American Rejects and All Time Low. A great combination and executed to perfection.
Listen to Thru It All – 'halfway anywhere'.
Thru It All Articles
Written by Fenton on
Steve Fenton writes in our music, words, and culture categories. He was Editor in Chief for The Mag and covered live music for DV8 Magazine and Spill Magazine. He was often found in venues throughout the UK alongside ace-photographer, Mark Holloway. Steve is also a
technical writer and programmer
and writes
gothic fiction
. Steve studied Psychology at OSC, and Anarchy in the UK: A History of Punk from 1976-1978 at the University of Reading.
Discover More Music