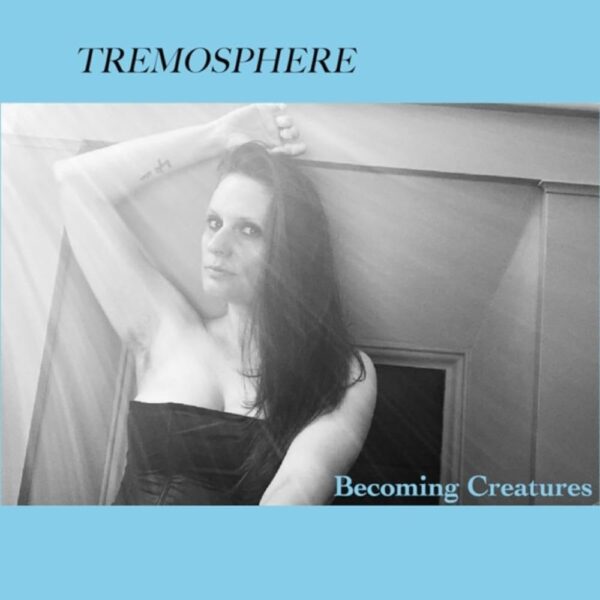 Tremosphere
Becoming Creatures
Tremosphere align themselves, in general, with shoegaze – but Becoming Creatures is an album with a dark edge, some angular moments, and most of all a strong off-the-wall experimental vibe.
We have a few Bleach Lab and Just Mustard fans around here and this album is in that wheelhouse, with a flicker of Siouxie and the Banshees and Bunin' the Ice era Nick Cave. Let's explore the various sounds on the album through four sonic signposts.
It's sultry and atmospheric in 'Utopia'. There's a warm soundbed punctuated by bass, with a piano adding a motif to the edges. Quite possibly my favourite track on the record, it has a certain rise and fall – not a barrage of dynamic chops, but a great heaving ocean that moves with low speed and great power.
In contrast, 'Lady Cardinal' has some echoing guitar skimming across chugging fifths. The chanting vocal in this song expresses the melodic side of Syvia Solanas. This song has a Juju era Siouxie feel, the subtle keys adding a shimmer of haunting sweetness around the guitars.
The fuzz of 'Lament' rattles away beneath the bass, like a musical hammer drill. Solanas' vocal provides the poetic melody and the backing vocal in this brief and strange song. This is one of the oddities on the album, and it's enjoyable how switches such as this keep you engaged. It's just over two minutes – like an interlude that clears the palate before the next course.
'Vanity Project' has a Courtney Love twist and some good rhythmic switches in the vocal delivery. Musically, it's simpler than many of the other tracks, and this works because the vocal is the key element. There's also an oblique hint at Gethsemane Rose's 'Proverbial Dogs' through the guitar, which is unintentional but enjoyable nonetheless.
Yes, this album will appeal to shoegaze fans and some interesting references to other genres manifest in brief moments. Tremosphere have delivered an interesting listen with Becoming Creatures.
Listen to Tremosphere – 'Vanity Project'.
Written by Fenton on
Steve Fenton writes in our music, words, and culture categories. He was Editor in Chief for The Mag and covered live music for DV8 Magazine and Spill Magazine. He was often found in venues throughout the UK alongside ace-photographer, Mark Holloway. Steve is also a
technical writer and programmer
and writes
gothic fiction
. Steve studied Psychology at OSC, and Anarchy in the UK: A History of Punk from 1976-1978 at the University of Reading.
Discover More Music