Brussel Spaceship – Hall of Fame
Brussel Spaceship were an indie/rock band active between 1986 and 1993, formed in Oxford, but famous for being from Chichester / Bognor Regis in West Sussex on the south coast of the UK.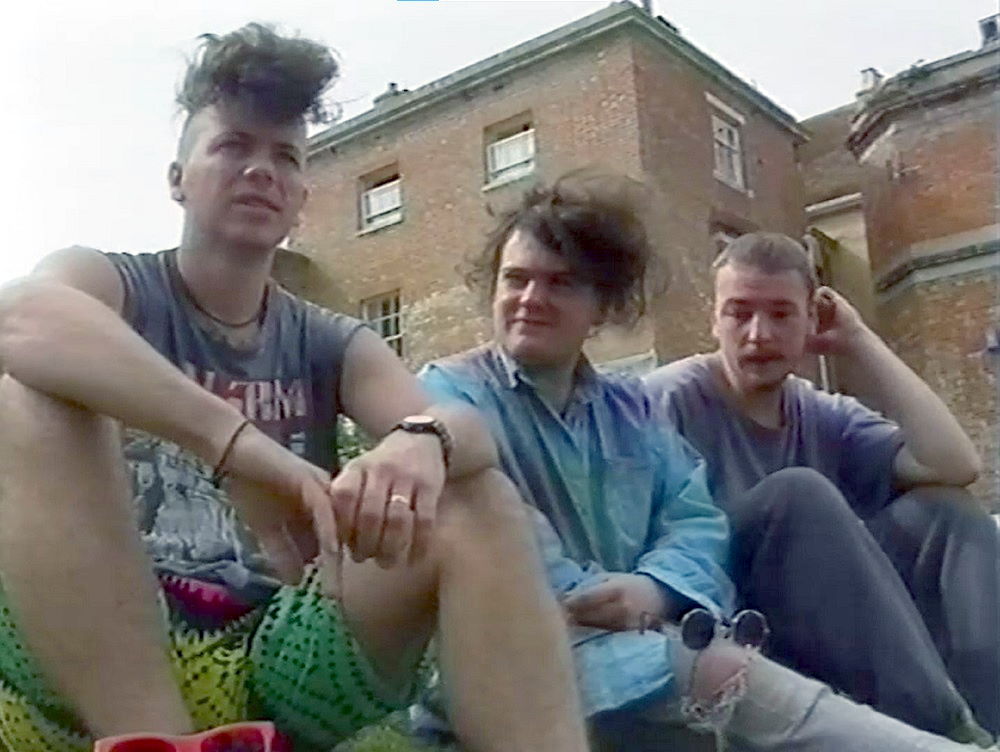 Formation and Early Years
Brussel Spaceship formed at Oxford Polytechnic (now Oxford Brookes University) in February 1986 and had a career that spanned eight years with eight releases. Their first billing was under the longer name Brussel Spaceship and the Turquise Cyclops, which was explained to Oxford Radio's Kate Halling during an early interview:
We wanted the stupidest name we could think of
Over the course of the next two years, the band built a dedicated following, releasing And Esau Was a Hairy Man (1986) and Music to Iron By (1988) before they officially went full-time in July 1988. Originally a five-piece, with two guitars, bass, drums, and keyboard, the band became a power-trio in 1989, which they remained for most of their career (original guitarist James Sharp returned briefly in 1990). The early prog influences were less present in the later recordings as the songs took on a more indie/rock sound and shorter lengths.
Power Trio and Norman's Big Surprise
In their settled lineup of Ian Stewart, Mike Randon, and Les Driscoll, the band forged an unforgettable sound, often composed of guitars with delay and phased effects, bass runs and chords, and a sixteen-beat flurry of creative drumming.
The band toured extensively, playing local venues as well as making festival appearances at Kingston, Yes, Greenbelt, and Glastonbury. They were mainstage headliners for Kingston Festival and were also used extensively in the promotional videos for the event, with tracks from Norman's Big Surprise used as cut-scene backing music, live performances, and interviews with the band in their later power-trio lineup of Ian, Mike, and Les.
Brussel and Slowdown
The band officially broke up in 1993, but their final album Slowdown, recorded during a live studio session and released under the abbreviated Brussel name, has left an impression that has lasted three decades.
Post-Brussel Activity
Ian Stewart subsequently released an EP under the band name Grin.
Mike Randon continued to play drums as a session drummer. He now runs a successful drum tutoring business and tours with Bruce Foxton's band From the Jam.
Les Driscoll played bass for The Cutting Edge alongside Martin Smith, Stuart Garrard, Timothy Jupp, and Stewart Smith, who later had success in Delirious.
Phonotonal Hall of Fame
Brussel Spaceship were inducted into the Phonotonal hall of fame in May 2022 on the 30th anniversary of their final album, Slowdown, which was released in 1992.
Brussel Spaceship Discography
The Messenger, featuring Ian Stewart, released Live in Concert in 1985 and Paradise Regained in 1988. Some of the songs from The Messenger appear on later releases from Brussel Spaceship.
And Esau Was a Hairy Man

Track listing:

More Than a Dream
Fire
A Step Away

Music to Iron By

Track listing:

Saving All Your Love For Me Tomorrow
Coming Home
Talking Like Strangers
The Hairy Man on Tour

The Truth About Llamas

Track listing:

Security Under Love
A Step Away
City Streets
Christmas Song
New Beginning
Loves Desire
I've Lost My Glasses
Paradise Regained
The Promised Land
Reward
Songs of Fina

November Demo

Track Listing:

Living 4 The 1
New Beginning
I've Lost My Glasses

Out of the Bath, Into the Desert

Track Listing:

Coloured Eyes
Hidden Warfare
It's So Easy
Sometimes I Really Miss My Mum
Living 4 the 1
More More More
Desert Sun
I Stand Alone
In Love With a Pinhead
Murder of the Nations Greatest Men
Barabus Calling

Norman's Big Surprise

Track Listing:

Famous
In This World
All Adds Up
Mighty Blue
Yeah!

Humns and Pslams

Track Listing:

He Is King
Almighty God is Here
Praise My Soul
Heaven is in My Heart
Like Clay
I Give You All the Honour
We Belong to an Army
Lord You Are Calling

Slowdown

Track Listing:

True
Fluorescent Hat
Rainbow
Slowdown
Here I Stand
Love
Going Home
Failure
Healing Hands
Fire
Bognor (Unreleased)
Band Members
The below timeline shows the band members as listed in the recording credits. Additional touring musicians include Paul, Mary, Jem Atrai, and Andy Skipsey.

Ian Stewart, guitar and lead vocals 1986-1993.
Mark 'Deano' Dean, bass and backing vocals 1986-1988.
Pete 'Prod' Pritchard, keyboard and backing vocals 1986-1987 and bass, 1989.
Dave Lusher, keyboards 1988.
Andy Hunt, bass 1989-1990.
Les Driscoll, bass 1991-1993.
Mark 'Styx' Lawrence, drums 1986-1988.
Mike Randon, drums 1987-1993.
James Sharp, guitar 1986-1987 and 1990.
The lineup at the time the band officially split was Ian Stewart, Mike Randon, and Les Driscoll.
Further Reading
You can view all our Brussel Spaceship content in our Attic Finds series. We are working with the band to make their recordings available on all popular streaming services and have some archive videos on the Phonotonal YouTube channel.
Brussel Spaceship Photos
The photographs below chart the progress of the band over their career.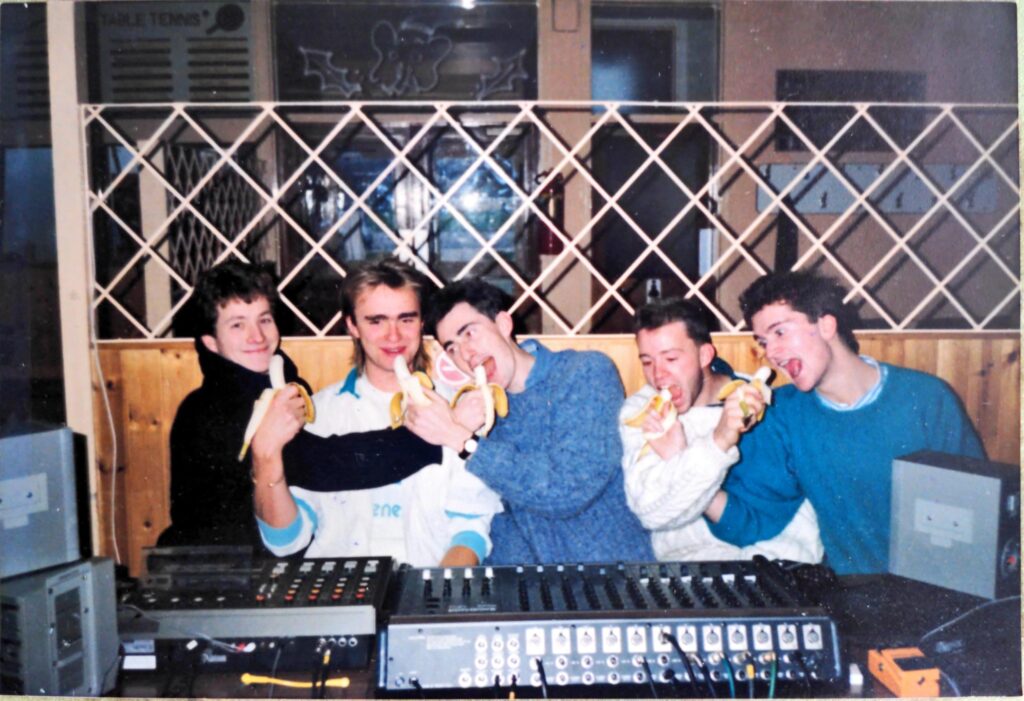 Here are some stills from their appearances at YES 1991 and Kingston Festival near Wimbourne, Dorset. UK.