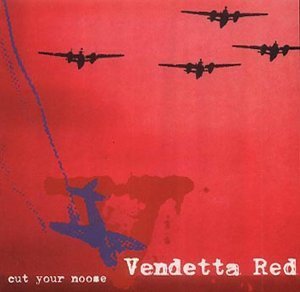 Vendetta Red
Cut Your Noose EP
Cut Your Noose is a record that has me feeling the anguish of conflict. The good bits are undoubtedly good, but it's not all good.
Opener 'Three Chord Valentine' isn't a bad track, the lyrics stray away from the norm and the indie/pop/punk mix brings forth images of Toploader after a street fight. 'Por Vida', though, is a poor follow up; very much a forgotten b-side.
'All Cried Out' is almost a Greenday song, with bouncy punk guitar rhythms played through crunchy amps. Final track 'The White Nightmare' features an avalanche victim with cannibalistic tendencies, but that somewhat makes a change from the other songs, which all feature lyrics about bleeding necks!
This EP invokes opposite reactions in the same instant. The music throughout is unquestionably good. The band may not be the best, but everything is simple and works for the songs. Unfortunately the vocal style of Zach Davidson is such an acquired taste that it inhibits the songs. If you like the vocals, you'll like the CD, otherwise you just won't.
Written by Fenton on
Steve Fenton writes in our music, words, and culture categories. He was Editor in Chief for The Mag and covered live music for DV8 Magazine and Spill Magazine. He was often found in venues throughout the UK alongside ace-photographer, Mark Holloway. Steve is also a
technical writer and programmer
and writes
gothic fiction
. Steve studied Psychology at OSC, and Anarchy in the UK: A History of Punk from 1976-1978 at the University of Reading.
Discover More Music