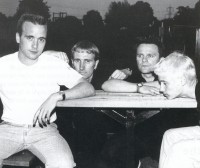 Evergreen
Dalek Boy LP Sampler
'Dalek Boy' is the debut album by guitar-driven rocksters, Evergreen. The creation of Ali Loaker (ex-River) and Ed Bird (drums), Dalek Boy was recorded Smashing Pumpkins style with Loaker providing all instrumentation except the drums.
'What if I' is a pop song with intelligent guitars that sparkle throughout. The chorus, which is the focal point of this track, features some smooth backing vocals. 'All is Vanity' starts off with an interesting guitar and vocal rhythm and before long the incessantly solid drums kick in. The guitars drop out for the second verse to create space for a slightly haunting vocal line.
'Eternal Friend' starts off like an acoustic ballad. However, the chorus sees a clever melody with distant backing vocals and an orchestral soundboard that almost brings a tear to the eye. This is one of those rare acoustic tracks that you will want to listen to again.
Finally, 'So Near' is a laid back, well-produced track that features some interesting piano. All of these tracks have been produced in the most crisp and clean fashion, Loaker's voice is a recognisable talent and the overall sound is as professional as it gets.
The mix of songs demonstrates a collection diverse enough to retain your attention and consistent enough that if you like one, you will like all ten tracks on the album.
Dalek Boy sounds very promising. We have heard this type of song writing before from Ali Loaker, the formula is simple: appealing rock songs with hooky guitars and a memorable chorus. We can't get enough of it.
Written by Fenton on
Steve Fenton writes in our music, words, and culture categories. He was Editor in Chief for The Mag and covered live music for DV8 Magazine and Spill Magazine. He was often found in venues throughout the UK alongside ace-photographer, Mark Holloway. Steve is also a
technical writer and programmer
and writes
gothic fiction
. Steve studied Psychology at OSC, and Anarchy in the UK: A History of Punk from 1976-1978 at the University of Reading.
Discover More Music