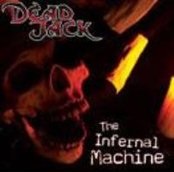 Dead Jack
Destroy the World
'Destroy the World' is a promotional single by Dead Jack, an angry band that fuses metal and fast punk in an unholy union.
The concept of destroying the world is not a new one, various generations have tried to achieve this ambition using various schemes. However, Dead Jack don't own a white cat or a monorail, so they are going to do it using aggressive lyrics and loud guitars.
This single features a moody piano intro, followed by some complex guitar work and a barrage of speed drumming. Dan Foy barks the vocal line, including a really catchy bit just before the chorus, with great confidence.
The frantic race between the instruments continues with 'I Killed them All', which has a more melodic vocal, a sing along chorus reminiscent of 70's punk and some assured bass by J Foy.
Dead Jack will interest you if you want some dirty, noisy music delivered with a cynical smile.
Written by Smith on
Stuart 'Saur' Smith was a prolific writer for The Mag throughout the magazine's lifetime. He combined a day job of temporary office jobs in London with a nightlife of trawling the capital's music venues looking for talent. As well as writing about music, he was a session musician who featured on a number of singles in the 90s. Today, Stuart is a Chief Writer for Phonotonal.
Discover More Music