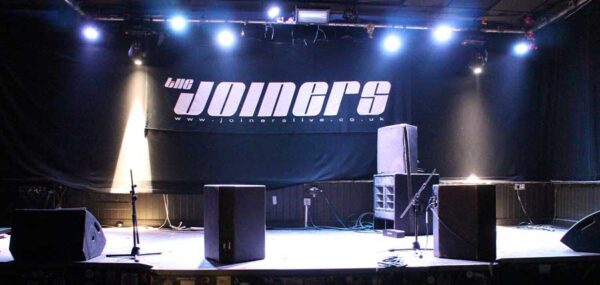 Dead Jack
Live (Three Date Theory / Black Box Theory / Cherry Atrium / Five Second Hand Rule)
Three Date Theory, who may well have taken their name from a Blink 182 lyric, took to the stage at The Joiners to perform a fairly intoxicated set with some painfully bad vocals.
The only interruption to their monotonous messy sound was a promising guitar intro, which promised more than the band could deliver. There was plenty of solid drumming in there, but when the other instruments fail to fall in line with the rhythm section… it doesn't matter how good the drums are.
Three Date Theory may well be a great band when sober, but they are a pretty damn awful one when they're half-cut.
The second theory of the night, Black Box Theory, were a much more plausible hypothesis. A great vocal carried off the shouty parts as well as the melodies and the whole set had a polished feel, which suggested time and effort had been invested in their sound.
More good drumming helped the rock-paced set and the whole band started and stopped in the right places to keep a tidiness about the songs. A bit more of a performance would have sold the tracks, but the crowd seemed to be won over before the half way mark even without it. Black Box Theory are a little packet of potential that needs to be opened, placed in a big bowl, and covered in milk.
The 75% of Cherry Atrium that were available on the night did well to cover for an absent guitarist. With a sound Frankensteined from Greenday and Good Charlotte (amongst others) the pop-punk-revival set was awash with little hooks and half-speed breaks.
The in-between-song parts of the set could have been slicker and shorter, with a bit of respect for letting the front man speak without drum-soloing over everything he has to say. The songs themselves were good though, with the guitar in the driving seat pulling each number along by the wrist.
A bit more creativity to make them sound more like Cherry Atrium, rather than a tribute to their idols, would benefit these guys as they are clearly a good enough band to strike out in their own direction.
Five Second Hand Rule have songs that are a lot more fluid than their name! There wasn't a huge amount of creativity in their set either, with fairly obvious chord progressions and bass lines that tended to stick on the root notes. Having said this, their energy and enthusiasm was an absolute winner and there were a couple of moments where they attempted to deviate from the well worn course.
The strong point of their sound was found in the two guitars and the solid drumming. The clean-sound guitar break in their second track was the most imaginative part of the whole evening.
If this was an awards ceremony, Dead Jack would have won the award for 'most improved band'. Having historically offered a fairly messy noisy sound, they have managed to make great headway without losing that angsty energy.
Having heard 'I Killed Them All' on a demo CD, it was hard to believe this was the same band playing the same song. The ability of Dead Jack musically has been taken up several notched and the vocal has gone from shouty tunelessness to confidently raging melodies.
There is still room for improvement in the punchy breaks, which weren't actually punchy enough, but they have come so far in such a short amount of time that it has to be believed they will fix this in no time.
Written by Fenton on
Steve Fenton writes in our music, words, and culture categories. He was Editor in Chief for The Mag and covered live music for DV8 Magazine and Spill Magazine. He was often found in venues throughout the UK alongside ace-photographer, Mark Holloway. Steve is also a
technical writer and programmer
and writes
gothic fiction
. Steve studied Psychology at OSC, and Anarchy in the UK: A History of Punk from 1976-1978 at the University of Reading.
Discover More Music