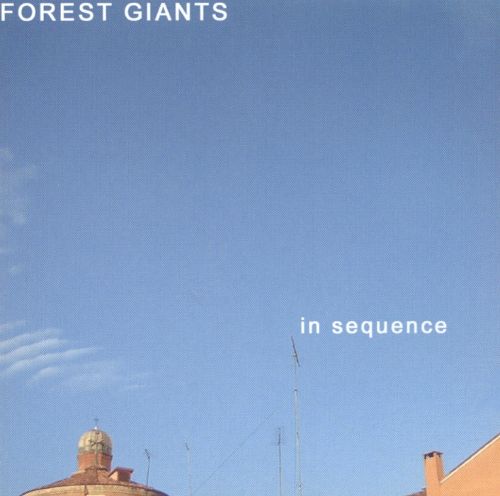 Forest Giants
In Sequence LP
The Forest Giants represent the rebirth of ex-Beatnik Filmstars' Tim Rippington. After five John Peel sessions, seven albums, and a 1998 US tour with the Flaming Lips, Tim thought that he had reached the end of his musical career.
However, that was before the Forest Giants happened. With Ruth Cochran on bass and Jo Head on drums, the Forest Giants are probably the most unorthodox band we've ever heard.
'In Sequence' is a collection of short tracks with a raw feel remaniscent of slacker-rock acts such as Pavement. Third song 'Jello' is a real early-indie gem, with some big guitar hooks and a somewhat melodic chorus. It all sounds very relaxed and it is easy to imagine the band sat around on comfy sofas drinking tea while gently recording a few tunes. This picture is far removed from the grim reality of using electrical appliances in a leaking warehouse in Bristol.
Following on from 'Jello', 'do you know what I've been through?' is a down-beat early Britpop number with a repeated guitar riff laid over some distant drums and faraway bass. The vocals in this track probably display the most emotion on the album with the singer repeating the title-line in a rhetorical chant.
After an eclectic interlude titled 'nervous', the final four songs flow gently together with their single 'postcards' pulling the record back up to speed. This track has the most general appeal, with a classic tube amp sound, tuneful solo, and a few memorable hooks too.
'f.w.l', 'baby', and 'holiday song' are over before you know it; this may not be fast-punk, but rather cleverly none of the tracks get much past three minutes. They know how to leave you wanting more.
The album is a collection. Even if a single track doesn't stand out to you – and 'Jello', 'Postcards' or 'f.w.l' will – the sum of these parts is an album the likes of which you will not hear very often. Bands like Forest Giants may never be famous, they may not appeal to great swarms of people, but as long as they do their own thing with Violent Femmes style 'tuning' on the guitars, lyrics that reflect personal experience, and a completely fringe style of sticking it all together, they will get a hardcore of dedicated followers.
'In Sequence' is a 30 minute artifact that will be loved by fans of Pavement, the Violent Femmes, and several eighties acts sporting NHS glasses.
Written by Fenton on
Steve Fenton writes in our music, words, and culture categories. He was Editor in Chief for The Mag and covered live music for DV8 Magazine and Spill Magazine. He was often found in venues throughout the UK alongside ace-photographer, Mark Holloway. Steve is also a
technical writer and programmer
and writes
gothic fiction
. Steve studied Psychology at OSC, and Anarchy in the UK: A History of Punk from 1976-1978 at the University of Reading.
Discover More Music