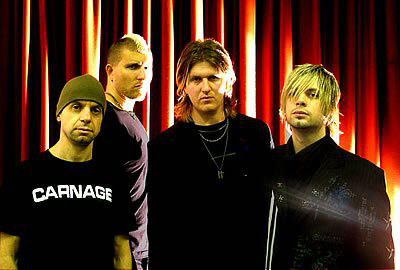 Rat:Daddy
Live (Loose Thread)
This special festive gig at the Railway Inn, Winchester, had tickets disappearing rather swiftly. Tables and chairs were removed to make more space and extra hand towels were ordered to deal with the anticipated flood of sweat.
Loose Thread warmed things up with a simple blend of loud guitars and complete stops that invevitably preceded a huge sing-along chorus. The set was short and to the point with only two noticeable variations on the theme: a rolling tom beat intro to one song and a Police-style guitar rhythm in another.
A few more of these variations would benefit their setlist and prevent some of the bleeding together that their time on stage suffered from. Having said that, Loose Thread are really rather good and anyone who likes The Clash will certainly enjoy their set.
There was an air of anticipation as the crowd awaited the beginning of the Rat:Daddy performance. The set kicked off with the kind of energy, thrusting, and movement on stage that would tire an Olympic athlete.
The pleasing thing about Rat:Daddy's performance is that it is all natural, you aren't seeing a stage-school practiced act going through the motions; you're getting four musicians who are carried along by the momentum of their music.
About half way through their material, the band played an emotional acoustic track that was recently featured on local television, which gave everyone a chance to catch their breath and wipe themselves down. Then, after a brief introduction of the band members, it was back in to full swing again.
Things were taken up a notch for the last three songs of the set, which were all taken from the EP 'We Should Be Going Crazy'. The crowd were singing along and thrusting themselves back at the stage in some kind of crazy groin ramming showdown. After such a massive ending to the night, there was no way the band were going to be allowed to leave the stage. The encore ended with the best track of the night: 'One Track Mind'.
Rat:Daddy are quality. The backing vocals throughout the set were excellent, the performance was both natural and inspiring and there were enough songs in there to both demand your instant attention and to grow on you when you listen to a record a few times.
Don't be stupid, go and see them when they tour in 2004.
Written by Fenton on
Steve Fenton writes in our music, words, and culture categories. He was Editor in Chief for The Mag and covered live music for DV8 Magazine and Spill Magazine. He was often found in venues throughout the UK alongside ace-photographer, Mark Holloway. Steve is also a
technical writer and programmer
and writes
gothic fiction
. Steve studied Psychology at OSC, and Anarchy in the UK: A History of Punk from 1976-1978 at the University of Reading.
Discover More Music