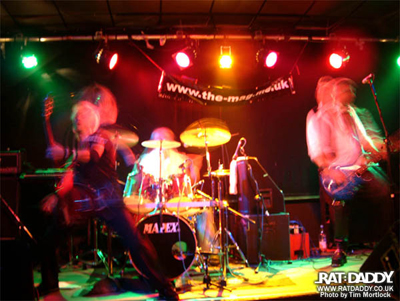 Rat:Daddy
Do It
Rat:Daddy may have been quiet for a few months, but they are back now with a series of live shows and a new record in the pipeline. To prove that they haven't just been improving their tan in some sunny resort, they've published a free download of 'Do It'.
Anyone who's seen Rat:Daddy play live will already have this song firmly etched onto their brain, but for those who haven't had the pleasure – think cock, think rock, think four blokes with a generous amount of leather with strutting poses to match… and don't forget the two main elements – melody and hooks.
Now, that doesn't necessarily mean that the record is faultless, but in this case it does mean exactly that. On the way to that ending there are some tasty guitar moments, an ambient 'someday… some way…' break, and a great verse; all delivered at a grinding pace that would make your mum blush.
Having given us a taste of what's to come, RD are now in the unenviable situation of having to follow up on this release. However, as they seem to be able to pen this kind of song without even breaking a sweat, it's about time they were given a challenge.
Written by Smith on
Stuart 'Saur' Smith was a prolific writer for The Mag throughout the magazine's lifetime. He combined a day job of temporary office jobs in London with a nightlife of trawling the capital's music venues looking for talent. As well as writing about music, he was a session musician who featured on a number of singles in the 90s. Today, Stuart is a Chief Writer for Phonotonal.
Discover More Music