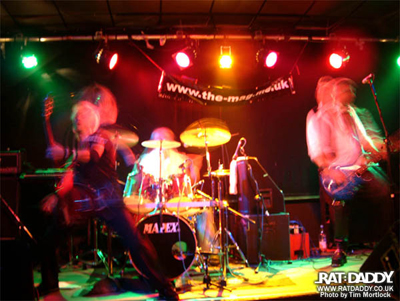 Rat:Daddy
Live (The Usual / The Downtown Maniacs)
Long term sabbaticals were a theme for the night, with both Rat:Daddy and The Downtown Maniacs playing their first gigs in a long time. The Usual were the first band on, playing a messy but entertaining set that showed a certain naivety in terms of songwriting and ability that was balanced on stage by a cocky swagger and confidence that was ahead of their musical skills.
Announcing, mid-way through their punk meets ska set that the next song had never been performed live before, it was a bit of a surprise that they executed it better than the more established material. Although we never got to put a name to it, it was their best song by quite some way.
If they could restrain their tendency to over-play the hooks, they would end up with shorter, better songs. This is something that they realised for themselves during one song, announcing 'we cut that short because it was getting boring'. Bingo!
A healthy band argument announced the arrival of the last song, with a generous portion of their final five minutes being dedicated to deciding their final offering. Eventually it was agreed without the use of force and their set was over.
Having split up three years ago, The Downtown Maniacs reformed especially to support Rat:Daddy. With a sound that jumped between Stiff Little Fingers, The Clash, and early Manic Street Preachers. They soon brushed off the dust.
Something definitely happens when a band enjoy themselves, and The Downtown Maniacs were certainly having a lot of fun and, while they certainly weren't the tidiest of bands, the crowd were forgiving to minor errors and forgotten lyrics.
'Superior Dream Car' was the biggest hit with a crowd that contained a few people who's memories extended far enough back to remember the band from their first time around.
Playing their first gig with Kev Bonett on drums and Tim Hardwick on lead vocals, Rat:Daddy emerged from their cocoon with a dazzling display of new material. Instantly winning the crowd over with 'Calling on Everything', they played a series of songs that were all of such high quality, it's difficult to imagine where they will ever find a b-side.
Rat:Daddy have held on to the anthemic and atmospheric qualities of their cock-rock era, but have embraced the melody and creativity of modern bands and added lots of three way vocal harmonies and splits.
The huge twisted break in 'Peter Says', the massive chorus of 'Soul Shaken', and the instant 'Couldn't Get Away' all contributed to a set so big it popped a button.
It's a strange to think that this band, who played one of the best live sets of 2005, almost called it a day. If I insisted before that you see this band live and you haven't bothered, I don't expect to have to tell you again!
Written by Fenton on
Steve Fenton writes in our music, words, and culture categories. He was Editor in Chief for The Mag and covered live music for DV8 Magazine and Spill Magazine. He was often found in venues throughout the UK alongside ace-photographer, Mark Holloway. Steve is also a
technical writer and programmer
and writes
gothic fiction
. Steve studied Psychology at OSC, and Anarchy in the UK: A History of Punk from 1976-1978 at the University of Reading.
Discover More Music