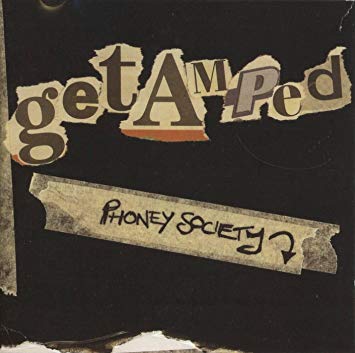 Get Amped
Phoney Society LP
Get Amped are a three piece rock band that hail from Bournemouth. Having used an industrial blender to mix their influences, they describe themselves as "trans-genre post-hardcore surf-emu". Having put in the hours on the small pub and club circuit, 'Phoney Society' is their debut album – and it's the mutt's nuts.
If you listen hard to the album, you'll be blown away by how intricate each track is. However, no instrument distracts, dominates or gets overplayed. Brothers Rick and Tim Parkhouse provide a highly competent vocal, which is truly anthemic in every chorus, the guitars slip between ambient crunch to power-chord and Chris 'Dougal' Leredde's drums provide an elaborate canvas for each song to really shine.
Opener 'Celebrity' is surf-punk track that starts out with some Police-inspired rhythms that suddenly explode into flowing rock. Listening to this track transports you into the Get Amped world of gutsy chops and changes that turn a good song in to a certifiable hit. The 12 songs that follow transport you through bright and sparkly sing-alongs to darker-edged strains all of which stick in your head and make your foot tap and your head nod.
This LP could have been a dodgy samey bunch of quick-win pop ditties that would be thrown away after a couple of plays, but the intelligent use of breaks and rhythm changes will make this record last for long long time.
The lyrics throughout seem to be from the heart, 'In the Dark' and 'Want to Belong' bare the soul and 'Shut Me Out' and 'Alive' have an aggressive edge that separate this band of mid-twenty year olds from the aggression displayed by teenagers who are also angry, but don't know why!
Phoney Society sounds like a best-of album, with 13 singles that are great turned up loud. If you like the Police but think they were too predictable, Blink 182 but think they are too boring, or Jimmy Eat World but think they are too soft then get this album.
Written by Fenton on
Steve Fenton writes in our music, words, and culture categories. He was Editor in Chief for The Mag and covered live music for DV8 Magazine and Spill Magazine. He was often found in venues throughout the UK alongside ace-photographer, Mark Holloway. Steve is also a
technical writer and programmer
and writes
gothic fiction
. Steve studied Psychology at OSC, and Anarchy in the UK: A History of Punk from 1976-1978 at the University of Reading.
Discover More Music