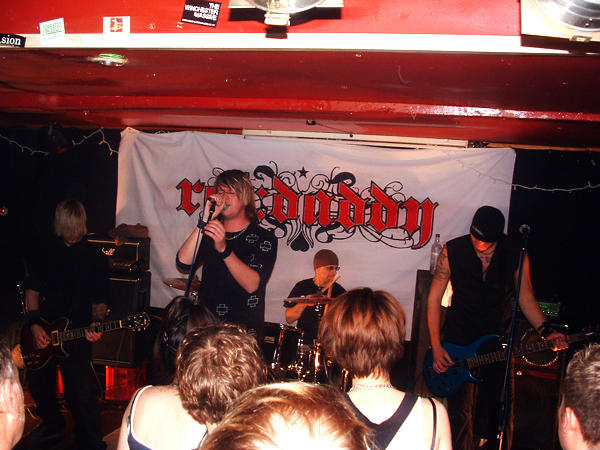 Lovechild
Live (The CIA / Little London / Rat:Daddy)
Billed as 'Permission to Rock', the Wedgewood rooms played host to four very different rock bands.
First up were The CIA who, despite being nifty musicians, failed to play anything that resembled a hook. The bass and drums were played to professional standard and the guitars were proficient, but the material was just forgettable.
It was a shame, as they are talented guys. A little bit of work on the songs to add some interest to either the music or melody would really help them get somewhere.
Second act, Little London, strode confidently on to the stage and started to rock. This band had plemty of memorable songs, with some punchy rhythms and decent vocals.
Despite fighting with a guitar strap that had decided not to hold the guitar, the performance was energetic and sold the music well. Little London are well worth seeing.
Having played the Joiners on the 18th, supporting Sixty Mile Smile, Rat:Daddy were like an athlete in the zone. It didn't seem possible, but they seemed even better than they were last time. Rat:Daddy are moulded on a successful formula: great melodic-rock songs delivered through a full-throttle performance.
The stand out track on this occasion was 'Out of Control', which was incredibly powerful, although the whole set could be described as the high point of the night. We've said it before; this is band not to be missed.
Final band of the night, Lovechild, were quite disappointing. Aside from the fact that they had hard work to do to follow such a strong performance, they appeared to be some kind of 80's rock-metal band without the stadium anthems. With looks modelled on the Frog brothers from Lost Boys, they certainly had an image, and to be honest, it was difficult to tell whether this was a parody or a serious eighties revival.
All in all, it was definitely worth the tiny ticket price as there were two exceptional bands on offer.
Written by Fenton on
Steve Fenton writes in our music, words, and culture categories. He was Editor in Chief for The Mag and covered live music for DV8 Magazine and Spill Magazine. He was often found in venues throughout the UK alongside ace-photographer, Mark Holloway. Steve is also a
technical writer and programmer
and writes
gothic fiction
. Steve studied Psychology at OSC, and Anarchy in the UK: A History of Punk from 1976-1978 at the University of Reading.
Discover More Music