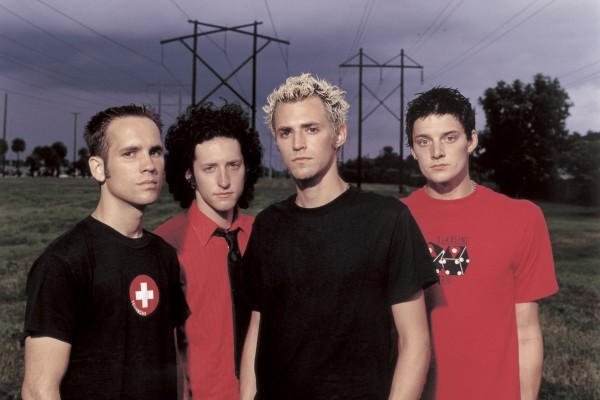 Allister
Live (Hidden in Plain View / The Early November / Homegrown)
The Drive-Thru records invasion tour hit Portsmouth's Wedgewood Rooms with an explosive riot. First band on, Hidden in Plain View, set the pace with an enormous sparkling pop punk set with thundering rhythms and sparkling clear vocals.
The band clearly wanted to get involved with the audience and spent most of their time thrusting at the edge of the stage. HIPV are part of the drive-thru genre of melodic fast punk and will certainly interest fans of label-mates New Found Glory.
Next up were The Early November, who continued the theme, albeit with a different spin on the style with more moody guitars and a slightly less rocky image. Their emotional style was a unique demonstration of bitter-rage constrained to the lyrics, with the music remaining atmospheric rather than reflecting on the angst with a visceral wall of noise.
The Early November finished by handing their guitars over to the other bands and their crew and dived off into the audience, from which they emerged several minutes later and soaking wet.
Homegrown last appeared at the Wedgewood rooms supporting Something Corporate with thier emo-punk energy. With an album full of pop-punk teen-anthems, their set was an vibrant interpretation of their album.
This set also featured, at one point, the naked forms of the previous band who emerged from the shower to perform an impromptu stage invasion. We didn't even have to pay for the extra entertainment.
Allister were the most unique of the bands on offer, with a fusion of punk-revival, rock and roll, and fast-punk. The resulting hybrid style was phenomenal and at least half the songs competed to become your favourite.
With a performance that dragged the crowd right in to the action and songs that turned all the fans in to the backing vocalists, Allister absolutely rocked.
All four bands were top-notch examples of their genres and if you haven't heard of them yet, you will soon. Their shows always have an unforgettable atmosphere.
Allister Articles
Written by Smith on
Stuart 'Saur' Smith was a prolific writer for The Mag throughout the magazine's lifetime. He combined a day job of temporary office jobs in London with a nightlife of trawling the capital's music venues looking for talent. As well as writing about music, he was a session musician who featured on a number of singles in the 90s. Today, Stuart is a Chief Writer for Phonotonal.
Discover More Music